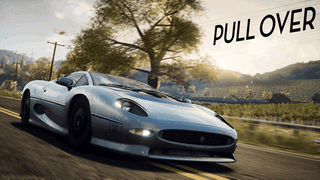 Think back. Can you remember a year when there wasn't a Need for Speed game? The long-running racing series has punched in at least once every twelve months. It's a bit of a surprise, then, that calendar year 2014 will come and go without a Need for Speed entry.
Annual releases for the Need for Speed franchise stretch back more than 15 years and the series has been a pillar of EA's release schedule in the same way that Madden games have been. But NFS fans needn't worry just because there won't be any aggressive street racing this year. Series executive producer Marcus Nilsson says that there is a new game coming but it needs more time.
Yes, it's weird that the announcement that 2014 will be a skip year for the series comes in the wake of a strong showing for last year's Need For Speed: Rivals. "We've sold 10 million in the past. Rivals wasn't anywhere close to that but it performed to expectations," Nilsson told me during a phone interview earlier today. "It's not like the franchise is in trouble or is going to go away,"he continued. We've got a good base on PS4. I think Rivals as a game is the most innovative that Need for Speed has been in a while."