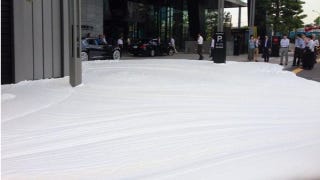 Christmas in July? Not quite. Last Friday evening in Tokyo, a mysterious foam started bubbling up, covering a street in the ritzy Ginza area. People wondered what exactly was going on. Apparently, there was an easy explanation for the surprising sight: forty liters of body soap.
Asahi News (via 2ch) reported that the suds covered the street in front of the Shiodome Hamarikyu Building. A tenant, a production company specializing in commercials, dumped approximately forty liters of body soap down a 13th floor drain, causing the first floor drainage pipe to overflow with foam. Here's how it bubbled out (courtesy of Instagram user Nakad).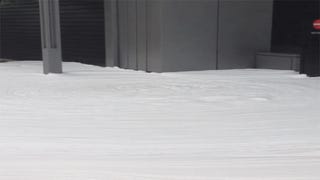 Police and firefighters arrived on the scene to help shovel up the soapy water.
Unlike the foam that covered a street in neighboring China earlier this spring, there doesn't seem to be a mention of the suds ooze being "foul-smelling".