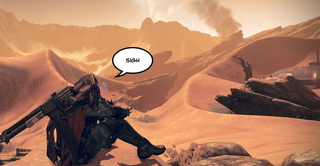 A couple of weeks ago, my regular Destiny crew stopped playing. It wasn't some big announced event, or something we had planned. Our loss of momentum started with a confluence of other, smaller occurrences. We took a few days off, then a few more. Then we weren't playing at all.
Once or twice, I'd be talking to my colleague and Destiny bro Jason Schreier about playing, and we'd both hem and haw and slowly realize that, to be honest, we'd rather do something else. It just wasn't worth our time.
We could both imagine what would happen if we did play: We'd spend an hour or so running through a difficult battle, a battle we'd played through a dozen times before. At the end, we'd be bitterly rewarded with booby prizes and useless junk. Rather than go through all that, we decided to stick a pin in it and go do other things.
And just like that, Destiny lost its hold over us.
We're not the only ones. A tide of discontent has swept the Destiny community, and many of the game's most dedicated players are announcing planned vacations. This isn't some grandiose, "We're fed up and we won't take it anymore!" thing, though that's not an uncommon sentiment. Rather, people who have put hundreds of hours into the game are finding that, for a variety of reasons, they're losing the motivation to play.
This development strikes me as a normal part of the progression for a game like Destiny. I was feeling it even a month ago, when I re-reviewed the game. My group was scraping up against the edges, and it was taking a toll. We were more irritable when we played, less joyful in our victories. Even our team email threads felt sharper, more weary.