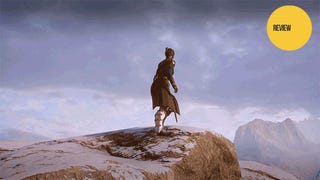 Dragon Age: Inquisition is a fantasy game. That word—fantasy—is a sort of shorthand, with a bunch of connotations. The word suggests to us that this game has dragons, and elves, and magic. There will be knights, monsters, and probably an evil witch or two.
But "fantasy," the word, means so much more than that. I have a great many fantasies of my own, but few of them have anything to do with epic battles between good and evil. Our fantasies are our wishes and our dreams, yearnings that are a bit too idealized to reasonably be called hopes. They let us imagine the world as we wish it could be, even when we know it will never be that way.
Like most people, I wish I were different in this way or that, or that my life were different. I wish I were a naturally gifted singer, or that I might never have to worry about money again. Above all, I wish I had more time. More time to live, more time to relax, more time to spend with the people I care about; more time to learn, to practice, and to become a better person.
Dragon Age: Inquisition does indeed have dragons, and elves, and magic. But it is also a fantasy in that other, more special way. Inquisition ushers us into a vast world and sets that world revolving around us, patiently waiting on our every action. It has time for us.
Finally, the world will be what we want it to be. Finally, we'll have the time to get everything right.
Dragon Age: Inquisition is a role-playing game from BioWare, the storied studio behind the Baldur's Gate series and, more recently, the Mass Effect trilogy. Inquisition is the third in the Dragon Age series, following 2009's Dragon Age: Origins and 2011's less-well-received Dragon Age 2.
In the game, you'll make a character from one of four possible races (elf, dwarf, human, and the viking-like Qunari) and choose to play as one of three possible classes (rogue, warrior, or mage). You'll spend a great deal of time talking with various characters, where you can choose to play as a kind, friendly sort; a brash, stubborn blowhard; or some mix of the two. You'll recruit a group of helpful companions, who you'll befriend over the course of the story. And when you're not negotiating or socializing, you'll explore a variety of massive, open-ended environments, completing small and large quests and using your various skills to battle against a variety of human and monstrous enemies.
So, you know. It's a role-playing game.
The populist narrative around the first two games in the Dragon Age series, in a nutshell: Dragon Age: Origins was a masterpiece, a throwback to the classic CRPG days of yore and one of the meatiest fantasy role-playing video games ever made. Once you installed it, it would periodically mail you $20 bills, and completing it would cause your hair to magically reform itself into the most flattering style possible. Dragon Age 2, meanwhile, was one step above a hideous Facebook game, a chintzy knock-off with a terrible story and simplistic design. If you played it wrong, it would come over your house, look you straight in the eye, and pee on your floor.
Of course, the reality is more nuanced than that. Origins was a terrific game but certainly had shortcomings. Dragon Age 2 has enough redeeming qualities that it has attracted and maintained a vocal, passionate fan base. But, generally speaking, Inquisition has arrived with something to prove. That it acquits itself so thoroughly and with such humorous specificity is welcome news.
Rather than spend ages comparing the new game with its put-upon predecessor, I'll just leave it here: I panned Dragon Age 2 back when I reviewed it, describing it as "akin to attending a dinner party and being fed unsatisfying side dish after unsatisfying side dish while awaiting a main course that never arrives." By way of comparison, Dragon Age: Inquisition feels like visiting an all-you-can-eat buffet loaded with delicious food, where you can just keep on eating forever. And all your friends are there, too.
The story goes like this: The world of Thedas is reeling in the aftermath of the dramatic events at the end of Dragon Age 2. The Chantry (read: the Church) is in turmoil, and mages across the nations of Orlais and Ferelden are in open rebellion against the templar warriors who had previously been keeping them locked up.