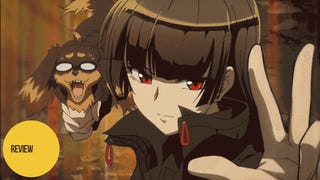 There are few anime that get me hooked enough to watch on a weekly basis—most times I save up and watch them in chunks. And despite having some glaring flaws, Dog & Scissors is one of the few that managed to keep me coming back thanks to its witty, over-the-top slapstick humor.
Good – Over-the-top Personalities
When it comes to Dog & Scissors, there are no normal, balanced characters. Everyone has a personality made up of nothing but extremes. The main character, Kazuhito, is so obsessed with books that being reincarnated as a dog doesn't even phase him—at least, not as long as he has a book to read in front of him. Hami is a girl who so believes that everything she does is such an inconvenience to others, she would gladly kill herself to make up for it—except she doesn't as that would cause a mess for others to clean up. And Suzuna is such a masochist that people being downright kind to her puts her in crippling emotional pain.
Having such extreme characters makes for an incredibly enjoyable comedy as their interactions often spiral off in unforeseen (and often hilarious) directions—and that's before you put Natsuno into the mix.
Good – When Yanderes Collide
What makes Natsuno stand out in a cast full of eccentric personalities is that she embodies two common Japanese character archetypes, the tsundere and the yandere. On the tsundere side, she is a natural sadist—especially towards Kazuhito and her masochistic manager. But, of course, beneath that is a cute and loving side—unless another girl is showing any kind of interest in Kazuhito. In that case she becomes a full-blown yandere—more than willing and able to kill the offending girl.