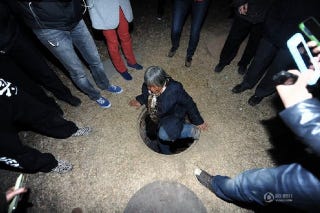 China is a place of extremes. On the streets of Beijing, one can see cars that only ever appear in the New York Auto Show and extremely posh women holding the latest designer bags from Paris. But beneath that splendour is a hidden part of China: a class of residents living below the poverty line.
Now, some of these people are being pushed out of their makeshift homes which are literally beneath the streets. As BeijingCream, a Beijing-based news blog reports, residents of some of Beijing's underground "wells" have been removed from their underground homes. Basically, these people live in the underground openings of Beijing's massive drainage and heating system.
The people living in these "wells" have become a hot topic in China over the last few days as reports first appeared on Beijing's Beijing Morning Post. The Beijing Morning Post reported that several migrant workers, living in some of Beijing's "wells," had spread across the city.
Migrant workers in China are workers who leave their hometowns and move to larger cities in search of better-paying work. Migrant workers often do jobs that most people wouldn't consider doing, from the most menial types of labour such as working on the Foxconn assembly lines, to picking up and sorting garbage. One 53 year-old resident of the "wells" told Beijing News that he saves money by recycling scraps and living underground is cheaper than paying about $50 a month to share a bed with another man.