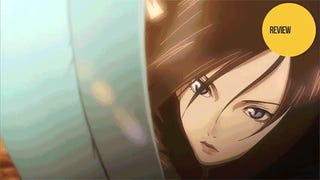 When I talk with older anime fans, the biggest complaint I hear is that everything has become nothing but moé, angsty, high school, love-harems. They claim they want exciting action shows with an adult cast and grown-up stories. To those people, I say this: "Blade & Soul is the anime for you."
Good – A Grown-Up Tale Filled with Action
Blade & Soul is the story of Alka, the last living assassin of the Clan of the Sword. Her mission? Vengeance against the dark, magic-wielding warrior Jin Varel and her companions—the ones responsible for the death of her master.
Nearly every episode of Blade & Soul has some sort of action climax. As a wandering assassin, Alka finds herself as everything from hired thug to bodyguard as she continues her quest to hunt Jin Varel. Jin Varel and her companions, on the other hand, are also hunting Alka; so when the two forces clash, you're always guaranteed an awesome—and often brutal—fight.
Good – Free of Modern Anime Clichés
Not to put too fine a point on it, but Blade & Soul is blessedly free of modern anime's most common clichés. There is no high school setting. No teenage heroes. No endless will-they-won't-they romance. No moé-invoking characters. No harems. No tsundere, dandere, kuudere, or yandere. If you have been searching for an anime that avoids these common tropes, Blade & Soul is the anime for you.