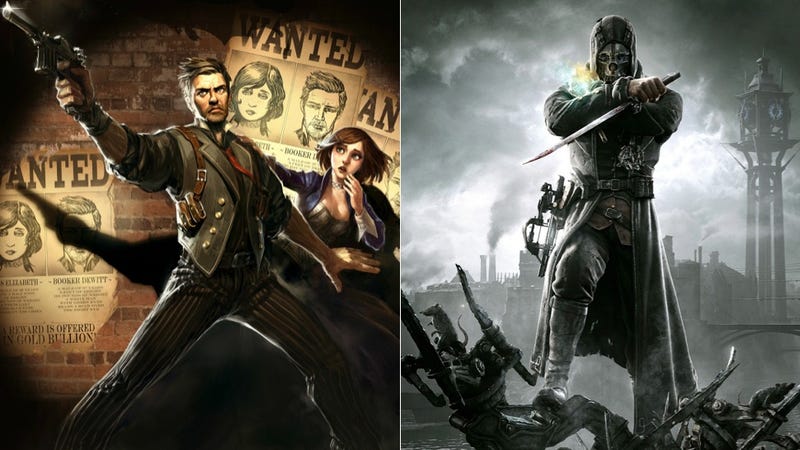 A beautiful city with a seamy underbelly. A girl in danger. Weird magic. Beheadings. Junk food. Am I talking about the recently-released BioShock Infinite, or am I talking about the just-updated Dishonored? Could be either one.
We're now a few weeks out from the release of BioShock Infinite, and folks have really begun to analyze it. Meanwhile, Dishonored's Knife of Dunwall DLC just came out, and I'm looking forward to getting back into that game for the first time in months. (Jason will have a full review shortly.)
And so, it's time to make the comparison that lots of people have been thinking about—time to compare Irrational's quantum-science shootfest BioShock Infinite with Arkane's mystical steampunk sneakfest Dishonored.
"Why Kirk," you may be typing, leaning into your keyboard with your entire upper body, "what a B.S. comparison this is! These two games are very different!" Ah, but they are... and they aren't. And that's what makes this particular comparison so interesting.
The two games have a good deal in common on a surface level—steampunk-influenced settings, stylized, Unreal-engine art direction, environmental storytelling, supernatural elements mixing with bloody violence, a damsel in distress whose name begins with "E"—but they also display fundamental differences the deeper you go.
Major spoilers for both Dishonored and BioShock Infinite follow throughout.
Let's get into it, shall we?
---
THE CITY
---
BioShock Infinite: The floating city of Columbia is a masterful synthesis of art design, architecture and writing. Its eye-watering bright colors and soft, melting sunrays belie the city's rotten core; jingoistic American sentiments and oppressive, racist dogma keep the haves and the have-nots separated in an often cruel way. The city is a floating contradiction, a collision of beautiful, false promises and the horrible truths beneath them.
Dishonored: Dunwall is more straightforward; it's simply an ugly, grim place to be. While the surrounding islands may be in better shape, plague has ravaged Dunwall, and the rich live in cloistered communities while the poor die and turn into ghastly zombies. It's a city built on the whaling trade, and in many (near-literal) ways built on whales themselves. It's a dark, amoral city, and it's up to you to decide whether it deserves a chance at redemption, or whether only a crushing iron fist can cure its ills.
EDGE: Toss-Up. And our first comparison is a toss-up! But really, this one's an impossible call. On the one hand, the Irrational art team (headed up by art director Nate Wells before his departure last year) have created something iconic and memorable in Columbia. It's an incredible city in more ways than one, and the kind of awful, beautiful place we rarely get to see in video games or anywhere else. Yet Dishonored art director Sebastien Mitton, visual design director Viktor Antonov and their team created something equally iconic with their game. Dunwall has the added benefit of actually feeling like a real, lived-in place. Columbia may get the edge in terms of sheer visual spectacle, but Dunwall feels rich and wretchedly real. It's a draw.
---
THE GIRL
---
BioShock Infinite: Elizabeth is a young woman with mysterious powers and a more mysterious backstory. She's brought to life by Courtnee Draper's performance, as well as by some fantastic work by Irrational's animators. She's a tragic Disney Princess trapped in a violent, cruel world. She has a thimble on one finger. Also, she can tear holes into parallel dimensions.
Dishonored: Emily is little more than a plot device for most of Dishonored, but she's an effective one. (She's just so happy to see Corvo when you first arrive during the prelude!) Your decisions over the course of the game influence how she decides to rule once she's come of age, and she's played by Hit-Girl herself, Chloë Grace Moretz.
EDGE: BioShock. I liked helping Emily as much as the next Dishonored player, but Elizabeth more or less WAS BioShock Infinite. I've seen the game described as a "second-person game," insofar as Elizabeth is so believable a character that even your own character Booker feels like a robot. Plus she's constantly throwing money at you.