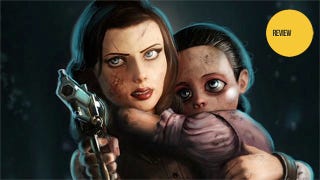 Somewhere, in some parallel dimension, there's a BioShock Infinite that I liked a lot more than the one I played in this dimension. This week, as I played the second, final episode of Infinite's Burial at Sea expansion, I felt like I got glimpse of that game.
Spoilers follow for BioShock, BioShock Infinite and Burial at Sea Episode 1.
Burial at Sea has long promised to let us finally step into the shoes of Elizabeth, the young woman who in BioShock Infinite alternated as sidekick, damsel in distress, sad woman in need of comfort, super-powered plot device, and eventually, harbinger of the apocalypse. Burial's second episode picks up more or less immediately after the events at the end of the (generally disappointing) first episode, with Elizabeth finally completing the circle by going to the first BioShock's underwater city of Rapture and hunting down and killing the final Booker/Comstock.