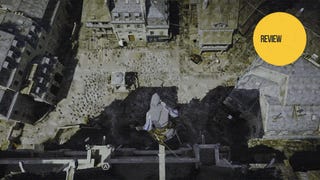 Assassin's Creed Unity is my least favorite major Assassin's Creed since the 2007 original. It's also the first Assassin's Creed that I didn't feel better about the more I played it. I didn't expect to be telling you this.
Unity is a gorgeous game, which is just about the only high praise I can offer the Parisian adventure. Its campaign is dull. Its side-missions—usually among my favorite parts of these games—are dull. Its lead character, the Assassin Arno Dorian, is dull. The game's vaunted co-op is dull. I'd tell you that the game's modern-era gameplay was dull if the game had modern-era sequences, but in a first for the series, it doesn't.
Unity feels like an attempt for the Assassin's Creed series to start over, to spare new players the complications of the series' centuries-old sci-fi conspiracy by minimizing references so severely as to make them entirely missable. They don't even call the Animus the Animus anymore. Now it's the Helix. Even some classic abilities don't return—unless you choose to upgrade your character to use them.
The game feels like a test for a graphics engine that should lead to equally beautiful but more fun future Assassin's Creeds. Despite some hitches in framerate, it is a stunning sight. At times, Arno often appears to be walking through a painting. This is, after all, the first Assassin's Creed that Ubisoft has developed strictly for the new generation of consoles (and PC).
Unity also appears to be an experiment to see how much Ubisoft can atomize a game and split it into tiny component parts, the better to aggressively adopt the gameplay systems and business practices of character-leveling, randomized gear collection, individualized characters, synced companion apps and optional and temporary microtransaction-fueled stat-boosting that can make solo gameplay easier.
The good of that atomization of Assassin's Creed game design involve the myriad looks you can adopt for Arno by changing his cowl and clothes...
... and it's nice to have a broader range of weapons and equipment that can modify the assassin's abilities...
But then there's optional but questionable stuff like this, a real-money way to obtain the game's optional "hack" currency instead of using the in-game currency you earn by finishing most missions...
Whether these changes are temporary experiments or the result of a shift in Ubisoft's long-term goals for the series, the end result is a problem: Assassin's Creed: Unity just isn't very fun.
Assassin's Creed Unity is a land-locked adventure set in late-18th-century revolutionary Paris. Our hero is the assassin Arno Dorian whose sole interesting personality trait is that he is in love with a woman who is a Templar, the group in eternal rivalry with the Assassins.
What Arno does in Paris is much of what assassins in this series have done in most of the previous major games of the series. Unity, after all, is essentially Assassin's Creed VII (they don't always put a number on them). It resists the currents of change that had swept the series toward fresher gameplay. Where the last two Assassin's Creeds deviated radically from formula to move the series into the non-urban American frontier and across the Caribbean sea—adding tree-climbing and shipwreck diving along the way—Unity brings us back to the series' urban roots. With that comes a lot of climbing up buildings and running across roofs, a lot of street-level swordfights and an incentive to get lost in a crowd after stabbing a target in the gut. That's not condemnable in and of itself, but Unity lacks the smoothness of control and the je ne sais quois of great mission design to tie everything together.