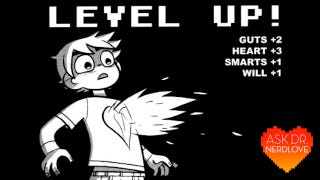 What's up, Kotaku? Welcome to the latest installment of Ask Dr. NerdLove, the only dating advice column that knows how to help you max out your social links with the Major Arcana of your dreams.
This week, we've got questions of how to make the transition from "friend" to "boyfriend" and handling the fears of taking your online flirtation into the real world.

Let's do this thing.
Dear Dr. Nerdlove,

I'm a complete failure when it comes to relationships in general, and never really dated in life, despite being almost 25 years old. With that said, and after more than 3 years trying on OkCupid, I actually somehow not only got a reply or two, but actually developed a nice conversation that led to becoming facebook friends and (last weekend) we even met up for some random walking around and talking for an hour or so.

This is by far the farthest I've ever got on any relationship with a girl, seriously. And that's my issue here: I have absolutely no idea how to proceed from here. I can't even say I have any idea if she's interested in me as a "friend" or anything else. From our usual conversation, plus the day we hanged out, I can be pretty safe she doesn't hate me or anything, despite our conflicting taste in anime (heh), but now I don't know how to keep this going and potentially turn it into a romantic relationship. What's the next step from here? Should I quickly call her out to do something more...date-like? Should I wait sometime before calling her to do anything else? Should I wait and see if she shows some interest? I'm completely lost here, Doc, and I don't want to miss this chance because who knows when / if this will ever happen again.

Thank you for reading this.

Living In Oblivion
Before we get started, if you've been using OKCupid for 3 years and getting next to no responses, you may want to tweak your profile a little.

But beyond that LiO, you have two issues I see all the time in my fellow geeks.
First of all, you're dealing with what's known as a "scarcity mentality" - in this case, the belief that amazing women (or men for that matter) are a limited resource and every rejection is a step closer to dying alone, unloved and unmourned.

It's a deceptively easy mindset to slip into; when you haven't had much success in dating, it can feel like you can count the number of potential partners on the fingers of one foot. And to make matters worse, it becomes a self-perpetuating cycle. You see, when you have a scarcity mentality, you tend to treat each potential date as your last, best chance for happiness… which leads to issues like approach anxiety, extremely needy behavior and - my personal favorite - Oneitis. As a result: you move too fast, push too hard and cling too tightly… and end up creeping her out or pushing her away. And so the cycle continues.
The way to break the scarcity mentality is to cultivate an abundance mentality - the understanding that there are literally millions of incredible women out there and that any single rejection just puts you one step closer to finding someone who's right for you.
The first step is to recognize that rejection isn't inherently bad. At its core, rejection means either a matter of presentation or a matter of incompatibility… and getting feedback about that stuff is doing you a favor in the long run. Yeah, it sucks - I've been rejected more times than I can count - but you can take time to examine what went wrong and what to do differently next time. Because there will be a next time.

So, don't treat this woman as your only chance for love - that's a lot of pressure to put on someone you barely know and it's going to scare her away.

But what do you do? Well, this is the second problem: you're being too passive because you're trying to eliminate all risk. You don't want to make a move unless you're 100% assured that you're going to get the best ending, and that's a recipe for losing out on a potentially great relationship. You have to be willing to lay your cards out there and tell her you're interested in dating.

Can I let you in on a little secret? That's part of what she's looking for, too. You met this woman on an online dating site, not an online friending site. She met up with you because hey, there seems to be a bit of chemistry there, why not see how you two do in real life? And now she's a little confused because you mostly walked around and talked. Which can come off as you telling her you're not interested in more than friendship. As a result… well, she's going to start seeing you as a friend.