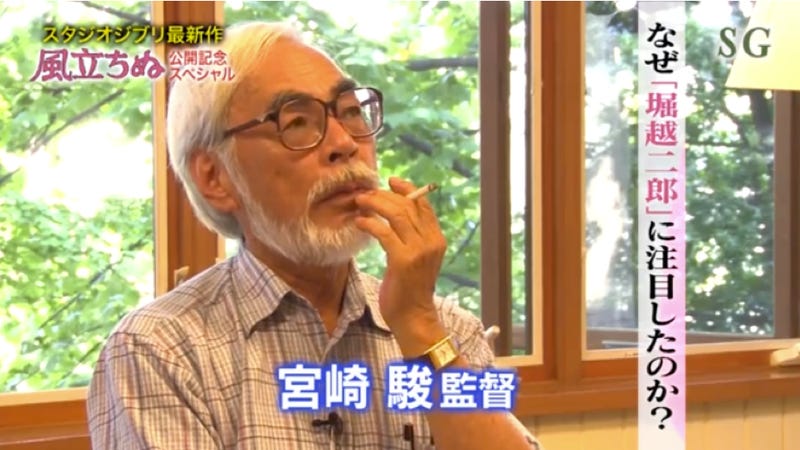 Studio Ghibli co-founder Hayao Miyazaki smokes. A lot. And so do the characters in his latest film, Kaze Tachinu.
It's like nearly every character, save for the female lead, smokes in Kaze Tachinu. If you think about the 1920s and 30s setting, the excess cigarettes make perfect sense: It seemed like nearly everyone smoked in those days. The smoking certainly does help give the movie a sense of time and place. It might even provide characterization.
Gigazine reports that the Japan Society for Tobacco Control, however, is not pleased! The non-profit organization has issue with scenes showing smoking in, for example, a classroom, the workplace, and a resort hotel, among others. The Japan Society for Tobacco Control even has problems with a scene in which the main character holds his wife's hand...while smoking!
"Why weren't cigarettes omitted from this scene?" the organization asks. "There are plenty of other scenes in which there's smoking."
When the movie first opened, Japanese site Naver pointed out that many viewers commented on Twitter about the profuse smoking in the movie. Some noted that it was rare to see a protagonist smoke this much in a movie these days. Others commented on how the movie made them want a cigarette.
The Japan Society for Tobacco Control says the way the movie's depiction of smoking influences young moviegoers cannot be ignored.