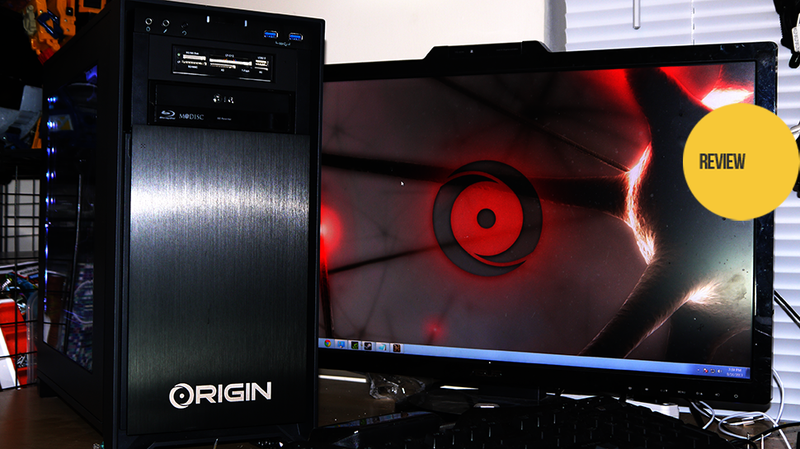 Origin PC makes a damn fine $3,500 gaming system, even when the CPU isn't exactly geared towards the high-end PC gamer. Well, that was an easy review. Who's for dessert?
It happens every time Intel introduces a new processor line — a barrage of announcements from the boutique PC industry mainstays, announcing that they've got a system packed with the latest tech ready to ship on day one. Such was the case with the Origin Millennium mini-tower system we're talking about here.
Those of you up-to-date on Intel chips are already doing the math in your heads.
Yes, Intel announced the availability of these chips on June 4 of 2013, and now it's September. This computer, originally slated for review around E3 2013, has been sitting on my desk doing important computing things for three months. Why?
For one, I've been busy. Game reviews, gaming app reviews, videos to produce, Snacktaku, Comic-Con, children, cats, apartment flooding — it's been a perfect storm of reasons to delay this PC review.
So there's me being a whirlwind of activity, and then there's me trying to figure out what to say about the Origin Millennium other than "it's a fine gaming system."
Because it really is. Origin PC has proven to me and other editors from Kotaku's past that they make incredibly solid, dependable, and powerful gaming machines. They ship the damn things in a wooden crate. You don't pack a wooden crate full of cheap crap and then make a reviewer scramble for his power screwdriver, because that reviewer is now armed, and that's frightening.
At this point I've reviewed one of Origin PC's high-end gaming laptops, the tiny EON 11-S gaming netbook (well, sorta), and a now a mini-tower. Each has performed admirably. Some for far longer than others.