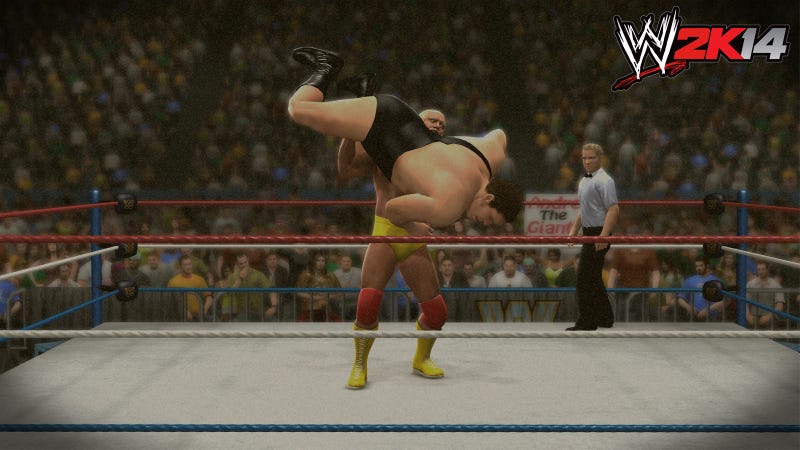 WWE 2K14 will deliver more than 45 all-time great bouts and a roster loaded with Wrestlemania's greatest superstars in a showcase mode that pays tribute to three decades of wrestling's premier spectacle.
"30 Years of Wrestlemania," is the title of the mode, and the big takeaway for gamers is what it mean to the game's overall roster of fighters.
"Re-creating these amazing moments throughout history required 2K to construct the greatest WWE roster lineup to date," Cory Ledesma, the game's creative director, said in a conference call last week. (News of the mode was held under embargo until today.) "The mode itself ends up defining a large portion of the game's roster."
2K Sports isn't confirming any bouts yet except for three: The Rock and John Cena in Wrestlemania 28; The Rock and Hollywood Hulk Hogan in Wrestlemania X8's "Icon vs. Icon" showdown, and Hulk Hogan versus Andre the Giant in Wrestlemania III, a defining event of the 1980s wrestling craze and one which set a North American attendance record that stood for 23 years.
"The fact you can in some way relive that and be a part of it as a WWE fan is an amazing opportunity," said Paul Levesque, a WWE executive better known as Triple H from his performing days.
While some wrestlers will likely repeat through the card of classic fights, at least 45 bouts means 2K and developer Yuke's will have to put a lot of superstars into this year's game, possibly the largest ever in series history.
"It's no doubt that Rock will be in here a lot, and you are gonna see some of the greatest iconic moments from Rock's career," he added. Dwayne "The Rock" Johnson is the cover star of the game, after all.