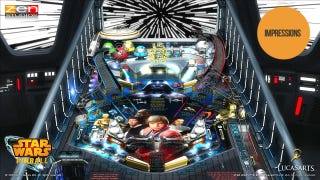 E3 is never a time for social calls. It's nonstop work. Last June, the only developer I met with outside the walls of the L.A. Convention Center was over drinks with Zen Studios' U.S. staff at the J.W. Marriott.
They'd built a great name for themselves with Pinball FX2, and their profile shot through the roof in 2011 with Marvel's license on their series of virtual pinball tables. "Where do you go from here? What's coming up next?" I asked.
"We have some ideas, and some big things we can't talk about right now," was the reply, with a knowing glance.
"Oh, shit," I said, "You got Star Wars."
I've long known this was an ambition for Neil Sorens, Zen's creative director, and all of the Zen team, here and in Hungary—indeed, there are 10 tables coming, and everyone on the development staff was given a crack at one. The fruits of that labor began releasing today, with three tables for Zen's platform on Xbox Live and the PlayStation Network, as well as for Android and iOS mobile devices.