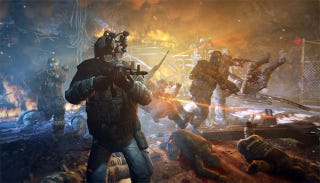 GameStop pulled Metro: Last Light from its Impulse digital download service, telling GameSpot that the uncertain fate of its publisher, THQ, is the reason.
"Due to THQ's current financial situation and uncertainty of delivery, in order to protect our consumers we removed the ability to pre-purchase that specific game," GameStop's top spokesman told GameSpot.
THQ is currently in Chapter 11 bankruptcy protection and selling off its assets, including projects in development and the studios making them. Bids are due Tuesday; the auction will be conducted on Wednesday. Originally, THQ had structured a sell-off through which a private equity investor was likely to grab everything for $60 million and life at THQ would continue more or less uninterrupted, under new ownership.