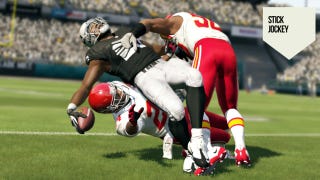 Earlier this week, Metacritic bemoaned 2012 as a year of poorer review scores for video games than the one preceding it. Fewer titles surpassed the all-important 90—which practically guarantees job security to those who developed or greenlit the project—than in 2011. Interestingly, the three console platforms' average review scores all improved slightly.
This isn't proof of overall game quality any more than MVP voting is proof of overall player quality. If anything, it's proof of how observers reacted to the product put on the field. But it made me curious enough to go digging into how sports video games were scored. And even then, the numbers were, on the surface, surprising.
On average, 78 sports games (this includes different platform versions of the same title) rated 74.19 this year, according to Metacritic. That's up 6.4 points from 2011's average of 68.10.
That's remarkable. Taken at face value, that's an astonishing jump in overall quality—for an entire segment—especially one whose most visible releases are most vulnerable to criticism that they're insufficient updates of the previous year's version.
In 2010, sports video games averaged 67.10, so the seven point jump to 2012 looks even larger. (To clarify my methodology, I took anything that was classified sports by Metacritic, excluding iOS titles. To that I added any of THQ's UFC and WWE licensed titles, and the F1 and NASCAR licensed racing games.)
To make sure I wasn't crazy, I went to GameRankings. Measuring the same titles, it showed a smaller, but still significant increase of 5.83, from an average score of 69.23 in 2011 to 75.06 in 2012.
I know Madden was shades better in 2012 than the year before, but NCAA Football dropped about as much as its pro football sibling improved. Of the Big Four—the year-in, year-out Great Sports Games—FIFA and NBA 2K performed roughly the same in review scores while MLB The Show and NHL dipped by similar amounts.
It's true that 2012 saw great games like UFC Undisputed 3 and SSX which didn't appear in 2011. And series like Pro Evolution Soccer and WWE made modest but noteworthy gains. But 2011 had Top Spin 4, to 2012's mediocre Grand Slam Tennis 2. And we also saw a slew of licensed Olympics video games that weren't worth anyone's time.
Did I miss something? Didn't we just not award a Sports Video Game of the Year? Isn't this the year in which no one is taking any risks?