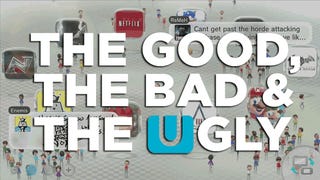 Nintendo's new console is just three days old and already one of the most controversial creations the company has ever produced. The Wii U is better than you may have heard, but it's in some ways worse. It's also changing. Constantly. And mostly for the better.
Just as new issues are being discovered some of its problems are already being addressed.
The state of the Wii U seems likely shift day by day. Here on day three, here's what's going right, what's going wrong, and what needs to change.
---
Good
There are lots of games. There are more than two dozen at launch, which is a healthy amount for a new console. Just look at this bunch… not too bad:
There are several very good launch games. New Super Mario Bros. U, Nintendo Land and ZombiU are all very fun. There are so many games, in fact, we've yet to be able to spend a lot of time with some of the potentially interesting titles like Scribblenauts Unlimited or the apparently-improved Ninja Gaiden 3.
The GamePad controller is light, comfortable and useful. It turns out you can add a six-inch screen to a twin-stick console controller and you wind up with a better device, one that, at minimum, makes map and inventory displays bigger and more accessible.
The Miiverse is amusing and handy. Nintendo's promising new social network functions as a message board for any of the system's games and apps but also functions as a handy source of advice if you're stuck in the middle of a game. Just screencap where you're stymied, multi-task your way to loading the Miiverse, post you screen and a query, go back to playing and, inevitably, someone will answer with a tip-and you'll be able to know if they had played the game, to boot. Posting in Miiverse is moderated after the fact, so fears of delays in message-posting have proven unfounded. Moderation may be heavy-handed (we have too few examples to make a judgment), but we can confirm that users are being creative within the confines Nintendo allows. Go to any Miiverse page and you'll see as much.
Also, after a Sunday of instability, Miiverse seems to be staying online. A rep for Nintendo told Kotaku: "Due to an overwhelming response from the public on Miiverse, the servers supporting this feature went down. The service is now functioning normally." The company also claims that what appeared to be a hack of Miiverse on Sunday was actually a case of a user accessing a "mock-up menu" in the service. Nintendo says that the menu "has now been removed and is not accessible."
The eShop needs work, but already rivals its console competitors. Nintendo's online store on the Wii was slow and confusing. Its DSi shop wasn't much better. The 3DS one was a step up. The Wii U one is actually good. You navigate it on the GamePad's touchscreen, which makes reading the listings and tapping through the menus a cinch. Better still, most of the launch games, including a few download-only titles, were available for purchase on day one. The system saves credit card info, though it could use a shopping cart and a purchase history display.
Wii transfer worked well. Moving content from an old Wii to a new Wii U is easy and is accompanied by an adorable animation. The Wii U emulates the Wii and keeps old Wii content relevant. There's a flip-side to this, though… see below.
The WaraWara plaza is already evolving. On day one, the Mii-filled plaza you see on your TV when you turn on your Wii U was just showing Nintendo-made Miis and the Miis on a user's friend list. But last night, Nintendo switched things, and the plaza now features clusters of Miis representing players who have commented on various games on the Miiverse. In the center of this ring of players are the user's Miis and those of their friends. Speech balloons can pop up from any of these Miis, which pretty much means that the first thing you'll see when starting the Wii U isn't an ad nor a publisher-created image of a game. What you'll likely see are the ideas and opinions of Wii U gamers. As a result, when I'm booting up my Wii U, I'm seeing people troubleshoot Black Ops II headset support, rave about Nintendo Land, grumble about IGN's review of ZombiU. This isn't buried. This is how the system is welcoming me. It's an extraordinary gesture on Nintendo's part to put the voices of its users on the launch screen of the console.