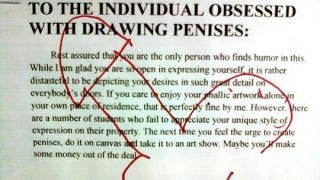 Nintendo's new console, the Wii U, allows players to not only write messages, but also draw them. It's surprising just how many different places players can draw pictures—whether that's in the Miiverse or in games.
If history is anything to go by, the Wii U is going to be a hotbed of dick-drawings. At one time, so was the Nintendo DS. Remember Pictochat?
Nintendo has already let on that they will be monitoring the Wii U's online community with three layers of security: software, user-submitted complaints, and human monitors. Can you image the hell these poor souls must go through to keep the Wii U clean?