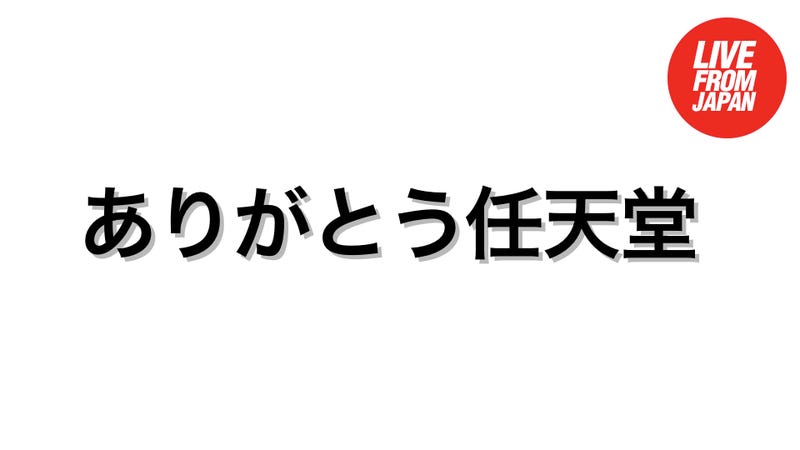 Spend any time on Japanese websites, blogs, and forums, and you'll eventually see it: ありがとう任天堂. It means "Arigato Nintendo" or "Thank you Nintendo".

"Arigato Nintendo" is a meme in Japan. It first appeared on popular Japanese game site Sinobi in 2009 in a piece that detailed the staggering first day sales of New Super Mario Bros. Wii. The phrase was originally intended to praise Nintendo. It soon took on a life of its own.
There are many things Japan should thank Nintendo for—countless things, even—but not for everything.
When Japanese gamers write "Arigato Nintendo" in a forum, they might mean it. This generation, Nintendo has released a slew of fantastic games and brilliant hardware. However, there are also Japanese gamers who detest Nintendo or the blind allegiance to Nintendo and ironically fire off an "Arigato Nintendo" when the company makes a mistake or does something unpopular—yes, the phrase can also be used to troll Nintendo.
There's a notion in the West that all Japanese gamers like Nintendo. This is far from the truth! However, the vast majority of them do grow up playing Nintendo games—especially nowadays. This isn't the first time Nintendo defined a generation.
During the 1980s, Nintendo defined video games. With the success of the Family Computer (AKA the Famicom) in Japan, the Nintendo became like Coke, Xerox, or Kleenex: synonymous with the product it sold.
You don't quite see the same "Arigato Sony" sentiment online in Japan. Even if that sentiment exists, you only tend to see it when new hardware is released (or if The Last Guardian ever comes out) or when Sony bags third party exclusives. That's pretty much it.
That being said, in Japan, there is still very much a "cool" factor around Sony gaming hardware that Nintendo doesn't quite have. It's not because Nintendo hardware is uncool, but rather, because of the baggage Nintendo has. Since many parents buy Nintendo portables for their kids, the prevailing stereotype is that Nintendo hardware is for children. This, too, is totally untrue! However, this is why you often see junior high school kids and high school kids with PlayStation Portables, as though they've "graduated" to the device. This could (and probably will) change as, for example, more titles like Monster Hunter 4 hit Nintendo's portable.
Yet, that emotional attachment to Sony and Nintendo are not the same. If you are thanking Nintendo, you are thanking the company for its hardware and the games that it's made on that hardware. You are, in a way, also thanking Nintendo for video games, end point. Most of the gratitude towards Sony would be for the hardware and the games it has gotten onto that hardware. The nuance is different. The companies are, too.
The Kyoto-based card maker has dabbled in several businesses—from taxis to love hotels—but video games would prove to be its greatest success. But Nintendo and their games weren't simply popular electronics; they were cultural ambassadors. Sony was also a great ambassador during this period, but it wasn't shipping pure, uncut pop culture per se, but instead, devices that enabled you to consume pop culture made by creators and artists of your choice.