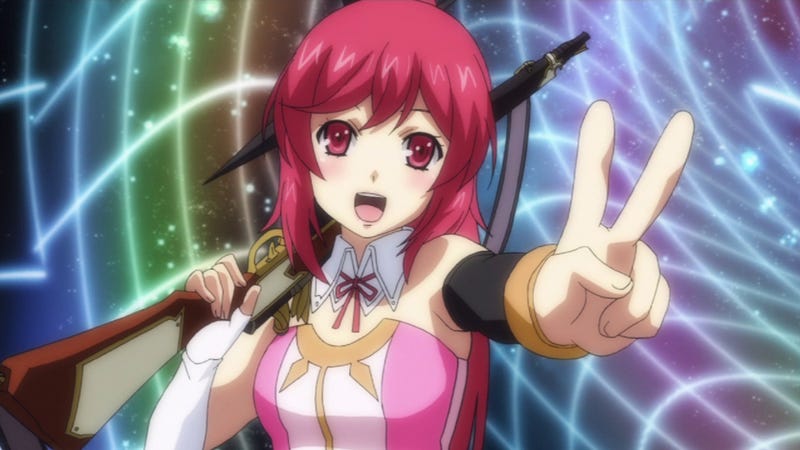 Tokitowa is an ambitious game. It mixes sprite-based anime graphics with a 3D world, has dating sim elements, and debuts a unique battle system—all in the same package. Moreover, all these elements are tied together with a complex, time travel narrative. But is Tokitowa able to pull all these different elements into a complete, polished, and enjoyable package, or is this just one game that tries to do too much?
Good — An Over-The-Top Story
Judging by the trailers, I assumed that Tokitowa would be a serious time travel story about a girl going back in time to prevent the murder of her fiancé at their wedding. However, I was completely wrong about the "serious" part. Despite the deadly consequences should the assassins not be stopped, Tokitowa is actually quite light-hearted—and more than a little over-the-top.
To start, the time traveling girl actually has two personalities: the "ladylike" Toki and the tomboyish Towa. The fiancé's soul, caught in Toki/Towa's time travel spell, is put into the body of her pet dragon—which cannot speak the human language. Moreover, far from being the loving gentleman Toki/Towa has always believed him to be, the fiancé (Zack) takes every opportunity to abuse his status as her pet—like his constant (and often futile) attempts to join her in the bath. And when he finally gains the ability to speak, you are basically treated to a love story between a beautiful woman and her pet dragon.
Beyond that, the game includes; assassin fan-boys who own a cake shop, a love-starved girl who is way too picky in her choice of men, a lazy fortune teller who seems to lack any magical powers, a village of dead people with surprisingly mundane problems, and an evil dragon whose greatest fear seems to be human bureaucracy. It's all crazy and silly, and it is treated just like the absurdity it is—and the game is better for it.
Good — Crossing Genres
In dungeon and in battle Tokitowa is clearly an RPG. But out of battle, the game often seems more like a visual novel, with long cutscenes, choices that affect romance, and a perverted male lead (Zack). With the game's light-hearted feel, none of this seems in any way out of place, and it serves to draw in fans of both types of games.
Good — A Complex and Customizable Battle System
I've already talked some about the real-time battle system in Tokitowa and how it's nothing like your standard turn-based RPG. Instead, battles are based around memorizing enemies' attack