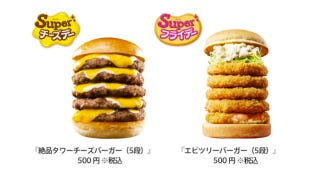 You know how promotional photos for fast food restaurants always look delicious? And then you get the burger, and it looks like a dog's breakfast?

That's often the case, and the special burger tower that's hitting Lotteria doesn't look to be an exception. Japanese site Rocket News has photos of both tower burgers (which you can actually order anytime, but at a much higher price).
These burgers will be available this week (Tuesday is huge cheeseburger day, while Friday is huge fried shrimp day) at discount prices.