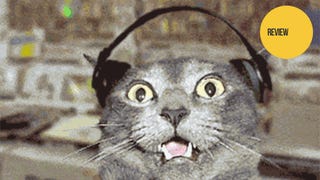 Forget graphics—for my money, audio is the most vital aspect of a video game. It's the thing that makes me get lost in a game's world, that makes my pulse pound and sucks me in. But in order for a game to sound good, you've got to have the right equipment.

So much video game playing takes place late at night, or while sharing space with other people, and a deafening 7.1 surround-sound setup isn't a viable solution for many people. A good gaming headset can be worth its weight in gold. But which one to buy? I've rounded up seven of the most popular gaming headsets to see how they all stack up.
It used to be that gaming headsets were chintzy, overpriced cash-ins that lacked a fraction of the audio fidelity of comparably priced "real" headsets. Fortunately, that's changing—there has never been a better selection of great gaming headsets than there is right now.
Unfortunately, shopping for a gaming headset is notoriously difficult. What features matter, and which ones don't? How much to pay? Does wireless matter? And on top of all of that, it's very difficult to really test a headset before buying it, so you're usually taking some Internet yahoo's word for it that the headset in question actually sounds good.
Today, I am that Internet yahoo. This is my attempt to cut through the signal-to-noise mess and round up some of the most popular surround-sound gaming headsets on the market today. This list is far from comprehensive—honestly, in the time it took me to test and write up these headsets, several new models have been announced. That said, it gives a pretty good cross-section.
Going in, I had a few requirements:
The headset had to offer surround, whether simulated or analog.
The headset had to have a built-in microphone that allowed for voice chat.
Other than that, I'd take all comers. On consoles, I ran a number of games, from Call of Duty: Modern Warfare 3 and Halo Reach on Xbox 360 to Uncharted 2 and Resistance 3 on PS3. On PC, I tested Skyrim, Far Cry 2 and Battlefield: Bad Company 2, as well as a bunch of other games. For my PC tests, I used a SoundBlaster X-Fi Titanium sound card, which allowed me to tweak and adjust the surround sound to optimize it. I used the same settings for each headset so that I could fairly compare them all.
With this many different headsets, this many different features, restrictions, and requirements, it's very difficult to parse them all, even here. At the end of the article, I'll make some broad recommendations, and if you have any questions about the headsets, I'll be reading the comments and will do my best to answer them.
Cross-Platform/Console Headsets
Astro A40 Headset And Mixamp
Price: $249.99 for headset and mixamp, $129.99 for Mixamp alone, $209.99 for A40 headset alone
Inputs: Optical, Coaxial, Stereo Analog, 1/8" analog, USB
Chat Works With: Xbox 360 via included cable, PS3 with additionally purchased dongle, PC via USB
Pros: The Astro Mixamp is still the most flexible gaming audio hardware you can get. The headphones are light and comfortable. Astro's audio/chat mixer remains the most elegant chat solution.
Cons: The A40 leaks audio, which means that whatever you're playing will be very audible to anyone else in the room (or apartment) with you. After several years of use, my Mixamp makes a lot of noise when I turn its knobs, which is par for the course with consumer electronics, but still annoying. They're pretty expensive.
Audio Quality: Decent. The A40's are a bit boomy for me, and there's no way to mess with the EQ on the headphones, so you're pretty much stuck with how they sound, especially on consoles. They're not bad, and were a gaming mainstay for me for a long time. That said, they're not great, and I prefer the audio quality of the newer A50's.
Overall Impression: You can read Mike McWhertor's review from 2009 here. My take: The headset is okay, the mixamp is great. If you've already got a good pair of headphones, you would do well to consider just picking up the Astro Mixamp. It's capable of projecting Dolby headphone surround into any regular pair of headphones, and while you won't get voice chat, you can always cobble together a workaround. That said, the A40 is still a fine gaming headset; the big cans provide a large aural space for the headphone surround to work in, and they're nice and comfortable. This is a good option for anyone who wants a lot of versatility in their gaming audio setup.