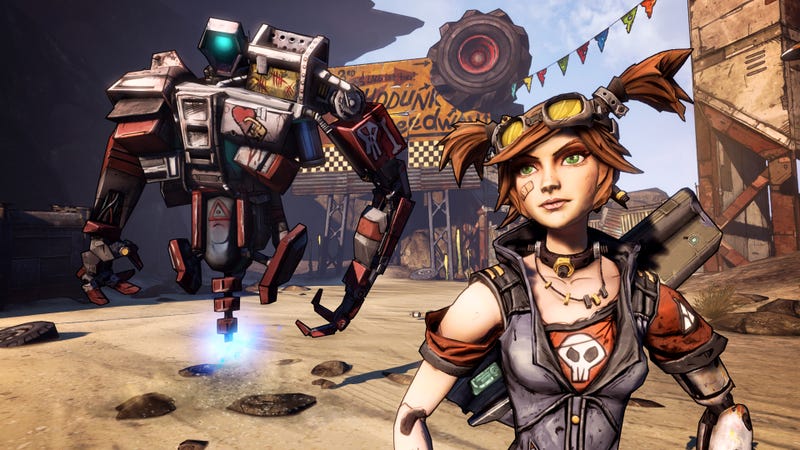 Don't you just love having a pet?
In the first Borderlands you could satiate your need for a cuddly companion by playing as Mordecai, the sniper expert who was always accompanied by Bloodwing. Depending on the skill tree you chose, Bloodwing's abilities ranged from deadly to unfairly deadly. I went for unfairly deadly. It was awesome.
So far in Borderlands 2, though, the closest thing you could get to cuddles is Axton's turret. The turret is something of a stand-in girlfriend. But regardless of Axton's cute nicknames and weird love for her, the turret isn't comparable to something more personified.
Enter Deathtrap, the hulkish amalgamation of hovering metal scraps that whispers ominous catch phrases while doing your dirty work. Gaige—the character you play as who controls DT—is a Mechromancer, and Deathtrap is your science project turned bodyguard.
Gaige herself feels like a cross between Lilith—with her red hair and spunky attitude—and Tiny Tina—with her small frame and the whole "being an insane genius" thing. Deathtrap makes her a very powerful character, maybe more so than any of the other four vault hunters.
Gaige is a strong, versatile character and a welcome addition to the new set of vault hunters in Borderlands 2. She even adds to the enormous list of easter eggs already in the game, which a cursory glance at her skill trees will prove. She's like an outspoken, pixie Pippi Longstocking with a can-kick-ass attitude. And she has a giant, fearsome robot on her side that can shoot laser beams at her enemies. But really this new class is all about the mech component, as your coolest skills will at least in some way involve DT. And that's wonderful, because he feels like my big, cuddly, bear bodyguard and I love sending him to slaughter anyone or thing that stands in my way.