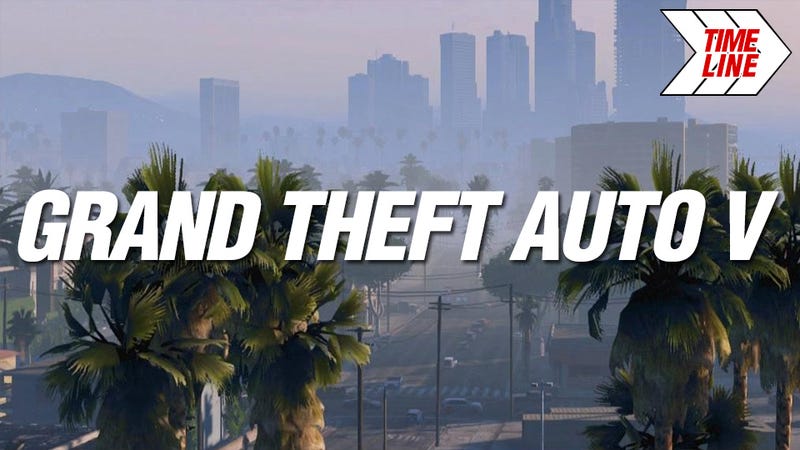 All video games have a history... a history of rumors and official statements, of leaks, of screenshots, of trailers and other things that excite us, confuse us or do both. So how do we get from the smallest hint of a new game to the real thing? What's the journey?
Today, we're debuting something a little different: a Kotaku Timeline—a timeline that tells the tale of the public emergence of the biggest, most interesting video games. The first game we're giving this treatment to may well be the biggest game of 2013: Rockstar's Grand Theft Auto V. We'll be updating it in the months to come, through the release of the game and beyond.
You could say that people have been expecting a GTA V as far back as when GTA sequels first had numbers in their titles. But the first hints... the first rumors that seemed to have at least some possibility of truth behind them, hit in 2009. And so that's when our timeline begins...
---

---
October 28—First GTA V-related clues found... (or so we thought.)
---
---
---
Newspaper: "The script he will end up co-writing will run to around 1,000 pages, nearly ten times as much as a feature film."
---

---
Financial analyst Mike Hickey: "We believe there is building suspension for a pre-E3 announcement, although we expect nothing from Rockstar at this year's official E3 event." (Note that this will happen again and again.)
---
Because, you know, people just leave that kind of thing out there. Well, at least we can all laugh at it now.
---
GTAV.net: "...an independent source had informed them that Rockstar is definitely researching locations "around Hollywood... and the surrounding area."
---

---
A bunch of URLs registered by Rockstar-owning publisher Take-Two—among them gems like CashforDeadDreams.com and SixFigureTemps.com—suggest Rockstar wants to satirize the recession this time around. Except maybe at the time of writing there'd still be nothing interesting on these sites.
---
---
---
Take-Two: "...we have a very strong pipeline of titles in development."
In a quarterly financial briefing, while talking about the 2013 fiscal year, Take-Two CEO Strauss Zelnick hints that something big is coming.
---
Gamespot: "The sources said a 2012 release was "pretty likely," adding that the game's scale was vast."
---
---
---
The debut trailer is scheduled for November 2. Only Rockstar would dare to run a trailer for an upcoming game during the heavy fall release season and know full well that, on that day, no big fall games will matter.
---
Kotaku: "Rockstar doesn't need anyone. Everyone else who makes video game platforms needs Rockstar."
---
---
---
---
---
---
---
---
---
---
---
We comb through the new trailer, picking out various interesting tidbits and analyzing them.
---
---
---
Commenter Nostrapadamous, after seeing the dogs present in the trailer, delves into the matter of virtual animal abuse (accidental or otherwise).
---
---
Rockstar: "Grand Theft Auto V focuses on the pursuit of the almighty dollar in a re-imagined, present day Southern California."
---
---
---
---
---

---
---
---
---
---