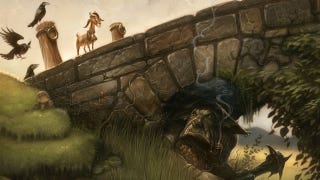 So, this billy goat goes trip-trapping across a bridge. As he clops along, he hears a voice from down below: "Roar! I am a troll! If you cross this bridge, I'll gobble you up!" The goat is kinda freaked out, since, you know, god only knows what's down there in the dark.
"Er, why would you eat me?" the goat asks. "I'm small and not very meaty! You might want to wait for my older brother. He'll be along shortly."
"Nah, it doesn't really matter," says the troll. "I'm not actually going to eat you. I'm not even a troll, I'm just this guy. I work in accounting at an insurance company. Sometimes I go under this bridge and mess with people, pretend to be a monster or whatever. I do it to everyone."
Internet trolling—the act of writing deliberately provocative or hurtful things on message boards and social media—seems to be everywhere these days, from the rampant online abuse hurled at Anita Sarkeesian's feminist kickstarter campaign to the Xbox Live insults chronicled at Fat, Ugly or Slutty to, well, more mundane things seen on video game message boards, Reddit, and in some of the sillier comments we get here at Kotaku.