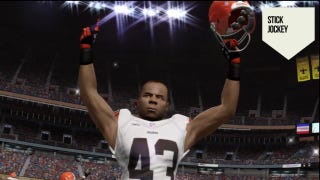 In cataloging the greatest thrills and moments I've had as a sports video gamer, all but one or two have come in a career mode of some type. In some cases, it came because I strictly avoided the game's exhibition features. For example, in 2011, just barely qualifiying to play The Masters meant something to me precisely because I had refused, to that point, to play the course from Tiger Woods PGA Tour 12's play-now menu.

But this week, in reviewing Madden NFL 13, I needed to examine the game's Super Bowl cinematic because I'd failed to reach the game in my player's career. So that meant going into Play Now and selecting the Super Bowl presentation. In last year's Madden, if you just background simulated the Super Bowl to the end, it would have no highlights to present, and that caused the video to cut off at the end. So I had to play through just to be sure I'd see everything. I selected the Cleveland Browns, mostly as a joke.
What unfolded was an unexpectedly compelling experience from the oldest and most-taken-for-granted mode available in the sports genre: Just you and the computer, offline, in a single game drawing on nothing before the coin toss, and with no ramifications after the final whistle.
Before the advent online multiplayer, Play Now, Exhibition or whatever you want to call it was the anchor of a sports video game, because it's where grudges were settled in what we'd now call local multiplayer. Franchise modes were appealing but without the depth of features seen today, it basically committed you to playing a schedule of games with a team and little else to flesh out the experience. I remember taking Navy to the Orange Bowl in College Football USA '96, then starting a new season with Barry Lunney and Arkansas, and just saying the hell with it after three games. There were more than 100 teams in the game. Why was I spending all of this time playing 12 games with one of them?
Today it's the persistent modes that form the basic expectations of the game, with Play Now feeling like the more limited, no-frills experience. Playing the computer in a one-off exhibition, especially when you've got so much you could be doing in Association, Connected Careers, Be A Pro or whatever you're playing, feels like going out in the yard to have a sentimental catch with your father.
You don't get much variety in the commentary because there's no season context to creep into the discussion. The decision to keep a player in the game with an injury is meaningless, because there's no future at stake. Other types of singleplayer play-now modes still reflect the modern sports video game's dependence on real life events to sustain user interest. FIFA's Football Club challenges are a rewrite/relive history proposition based on something that happened in the past week. NBA Today and MLB Today from 2K Sports' basketball and baseball games are tied to the matchups and rosters of the day.
Playing the CPU in a one-off exhibition feels like going out in the yard to have a sentimental catch with your father.
It's not to suggest the exhibition mode is fundamentally irrelevant, or should be removed or is in any danger of going that way unless it gets some kind of makeover. It's where the soul of the game resides. A customer has to have the means of playing a game with any team and against any team. Discussing telemetry with Madden developer Josh Looman last year, he said 99 percent of their users play the mode at some point. It's as basic as bread, Play Now. (It makes me wonder, though, about the 1 percent who don't. They're likely uber-collectors in Ultimate Team.)
What's really remarkable is that 9 out of 10 players also participate in Franchise—the old offline career mode—in some way last year. For NCAA Football, I've been told it's around 80 percent. This figure doesn't mean someone completed a season, necessarily, only that they had the game and started one. But it's not much of a stretch to look on it as the main reason people get involved with these titles, with exhibitions and Play Now mode as a kind of laboratory.