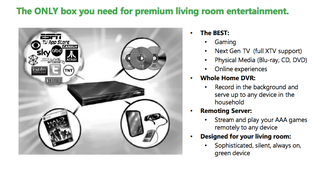 An apparently two-year-old document, purporting to be an internal overview of Microsoft's plans for the Xbox 360's successor, surfaced overnight, and while many rightly cast doubt on its authenticity, the claims it makes are not too farfetched. Some have even been reported before.
The document, evidently a PowerPoint slide presentation, is at best an official but dated plan for Microsoft's console strategy from 2013 on, and at worst is some business student's presentation or a pie-in-the-sky wish list of everything a fanboy wants for $299—starting with a console six times more powerful than the Xbox 360.
In either case, it definitely churns up discussion of what people want and expect when Microsoft brings out its next console, widely believed to be on the way sometime in the next two years.
The document came to light via NeoGAF early this morning and later was published to the document hosting site Scribd. It was then removed on demand of Covington & Burling, a law firm that has represented Microsoft. Kotaku has excerpts of its pages below.
While Kotaku can't confirm anything about the document or its origins, we have done our own reporting on Microsoft's next-generation plans before. In January, Stephen Totilo, speaking to several informed sources, reported that the Xbox 360's successor would feature a Blu-Ray drive and new version of the Kinect sensor. In February, Luke Plunkett, also speaking to multiple sources, identified the console's code name as "Durango." "Durango" isn't mentioned anywhere in this document, but Blu-Ray inclusion and a Kinect successor are.