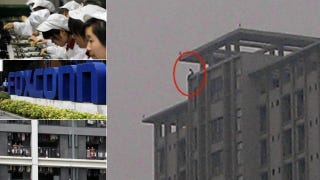 This week, a 23 year-old Foxconn worker fell to his death from a Foxconn company apartment. It's believed to be a suicide. Today, Foxconn confirmed the worker's death, which happened outside Foxconn's Chengdu plant at a company apartment.
The suicide is the first since Foxconn and Apple reached agreement over improving conditions for its 1.2 million workers who make the world's electronics. Foxconn workers don't only assemble the iPhone and the iPad, but also the Wii, the Xbox 360, and the PlayStation 3. According to rumors online in China, it's a suicide that authorities also tried to cover up.
It's also the first suicide since reports earlier this month when apparently as many as a thousand workers rioted at Foxconn's Chengdu complex, the location of this week's suicide. The riot seems to have broken out over declining work time that is cutting into worker pay. The actual number of participants is unconfirmed, and it could be much lower.