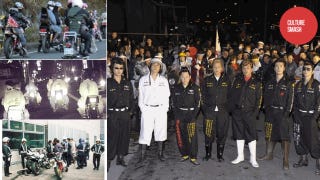 In the past, the mainstream media's M.O. has been: If there's a shooting, blame video games; if kids are having problems, blame video games; if someone farts, blame video games.

Like heavy metal and rap music before it, video games are an easy—and often, misunderstood—target. Yet, a recent report fingers video games (among other things) for something rather unusual: declining numbers of Japanese juvenile delinquents in motorcycle gangs.
They're called "bosozoku" (暴走族). They ride around on noisy scooters or motorcycles and raise a ruckus.
In the past, when not getting arrested for disturbing the peace, these bike-riding yanki got in fights, smashed cars, and beat up pedestrians. They carried Imperial Japanese flags and bats. They were generally bad news.