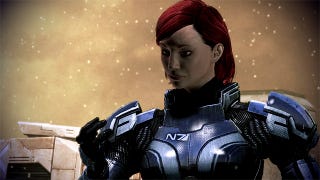 If you died tomorrow, if some kind of disaster struck and removed you entirely from the world, would the choices you'd made with your life to date matter?
Would it matter what you had accomplished? Who you had loved? If you had saved another's life? Would your life's work have meaning? Would there not be at least a single day in the course of your years that managed to have repercussions beyond the limits of your own knowledge and time?
I know very, very few people who would say, "no, none of it matters." It's a nihilistic and bleak point of view to maintain, that the inevitability of the final conclusion — for indeed, we are all mortal — overrides the importance of what one does along the journey. To be human is inevitably to face death. The moments we live for, before the end comes, are what define us.
So, too, for the life and times of Commander Shepard.
When I played Mass Effect 3 through for review, I was short on time. I finished the whole thing in about 23.5 hours' worth of play, crammed into two weeknights and one very long Saturday. I completed the game successfully, in the sense that I ended the reaper threat, but it was more or less in the worst way possible. This Shepard (who was not my Shepard) and her allied forces were not truly ready, and I'd faced a long, agonizing series of lose/lose decisions along the way. One of Shepard's closest allies had committed suicide in despair, and many others had been lost on missions. Garrus and Liara, the Commander's right and left hands for so many years, her closest friends and most stalwart allies, died in London.