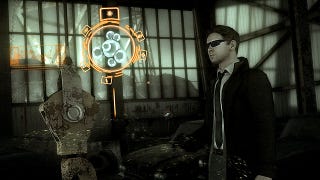 Google is in the news this week not so much for their software and search offerings, but for their hardware, and whispers of an item yet to come.
According to the New York Times, Google is developing a type of Android-based glasses that will, in some way, project content immediately into the wearer's field of vision. The glasses reportedly include the features users have come to rely on in their smartphones, like GPS, cameras, and the ability to play and record audio. The Times reports:
Several people who have seen the glasses, but who are not allowed to speak publicly about them, said that the location information was a major feature of the glasses. Through the built-in camera on the glasses, Google will be able to stream images to its rack computers and return augmented reality information to the person wearing them. For instance, a person looking at a landmark could see detailed historical information and comments about it left by friends. If facial recognition software becomes accurate enough, the glasses could remind a wearer of when and how he met the vaguely familiar person standing in front of him at a party. They might also be used for virtual reality games that use the real world as the playground.
Like so many of our "living in the future" gadgets and connections, the possibilities are both amazingly exciting and a bit troubling all at once. Articles abound regarding the potential logistical troubles the glasses will pose, as well as ethical and privacy concerns.
And yet, the implications of what this technology could eventually do for games are fascinating. Our current wave of "augmented reality" games generally work by importing an impression of the physical world into the game's digital one. If a Kinect is scanning a living room and the player's place in it, that player must still be looking at the world inside the television, as it were, in order to see how the game interacts with a picture of her sofa. The PS Vita promises successful augmented reality gaming through the use of its AR cards, but the player must still be watching the screen to see what the miniature soccer players do to his coffee table. And previous mobile augmented reality titles have had more in common with sets of stickers a player can throw onto any image, including his- or herself.