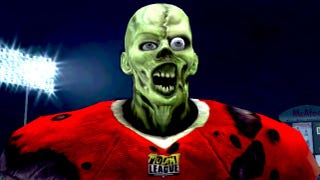 Finish off the "Blitz Gauntlet" mode in the recently released NFL Blitz for PS3 and Xbox 360 and you'll unlock a team full of zombies. And the logo on their jersey isn't that of the National Football League, but of another league, one from a future of decaying flesh and dismembered bodies.
That shot above comes from NFL Blitz and it clearly pays homage to Mutant League Football with the uniform's collar patch. While EA Sports acquired NFL Blitz from the 2008-2009 selloff of Midway, Mutant League Football is something EA has owned from day one, and it's a reboot that fans have begged for since its 1993 release on the Genesis.
OK, so, let's cut the crap. What's going on here? Is this a veiled message to Mutant League Football fans that the game is coming back?
I have done my damndest to run down the truth here. First up, on the record, EA Sports officially no-commented all of my questions about Mutant League Football. "We have no announcements at this time," a spokesperson told me. I've been around long enough to know that's boilerplate for "we're not saying anything, but please keep talking about this."
So I then went to sources familiar with the studio and the products built there. Two stories emerged. The first is that, yeah, the rank-and-file development staff wants to bring back Mutant League Football just as much as the fans do. There's a cynical belief, however, that it can't happen.
A Mutant League Football game is competitive to both Blitz and, somewhat, to Madden. Not only would the NFL frown upon it, because it would cannibalize sales off its official video game products, Electronic Arts might not wish to because it would be paying out development costs for something directly competing with a product they already make.
There's also a question of saturation. If it's a downloadable title, Blitz and Madden NFL Arcade already are out there. If it's a full console disc title, NCAA Football and Madden NFL are on shelves each summer.
But ... but ... there's suspicion that something might yet be in the works. There are rumors of concepts involving Blitz zombies, in more violent scenarios than you see in NFL Blitz, just not on a football field. They could have been generic stand-ins for something completely different. And remember, the Blitz folks did a hell of a job keeping that project secret even from their own colleagues.