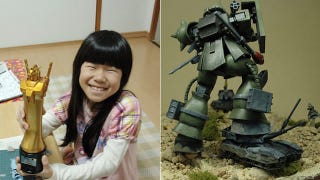 The stereotype is that Gundam is for males. That it's only men in their forties and thirties who build Gundam models. The stereotype is wrong. Don't believe me?
The recent "Gunpla Builders World Cup 2011", the first international competition devoted to Gunpla, or Gundam model building featured a junior division for modellers under 14 years-old, as part of a larger effort to get kids away from digital entertainment and back to making fiddly models.
A finalist was selected from each country. Japan's junior division winner (above) showed just how the stereotypes are incorrect. Second grader Mei Hata, 8, proved that, yes, little Japanese girls are into giant mecha, too.