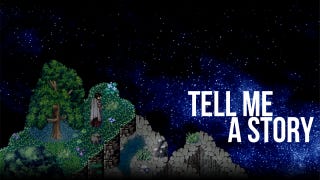 Video games have a language all their own. It's a language that most people understand implicitly—concepts like extra lives, leveling up, experience points, and boss battles have gone mainstream. That language has begun to seep into other media as well—movies like The Matrix, Source Code, and books like those in the Scott Pilgrim series all use the language of games to tell stories in fresh, interesting ways.
To The Moon, a new PC game from Kan Gao's indie studio Freebird Games, occupies a strange but welcome space between video games and non-interactive media. At its heart, To The Moon is mostly concerned with telling a story—and what a lovely story it is!—but what's remarkable is the way it tells that tale. It is, in essence, an interactive storybook that leverages the cultural language of video games to weave a unique and affecting tapestry.
To The Moon tells the story of two scientists who transport themselves into the memories of a comatose, dying old man named John. They must move backwards through his life, learning his life story while slowly unraveling the reason why he wants to travel to the moon before he dies. The story is presented as a mystery—as the scientists proceed, they (and we) learn more about John, his wife River, and the story of their life together.
The setup is equal parts Inception and Eternal Sunshine of the Spotless Mind, with a touch of Memento's reverse-engineered storytelling. As a "game," it's not much to write home about—there are some very simple puzzles and a lot of object-hunting, but for the most part, the game plays itself.
On the Freebird Games site, Gao is very clear about his goal in making To The Moon. "The design philosophy was simple," he writes, "to create a 'game' that takes the player through a story in the form of an an immersive interactive show." And in that, To The Moon is a success. The writing is snappy and funny, the characters are well-developed, and the music, composed by Gao and Plants vs. Zombies composer Laura Shigihara, is entirely lovely. But what surprised me about To The Moon was how it leveraged the visual, aural and even emotional language of video games to better tell its story.
When I talk about "the language of video games," I'm talking about a couple of things. Recent films like Inception and The Matrix involve concepts of ego-transference, digital projection, climbing through levels, and extra lives. (For those with long memories, I actually had some significant problems with how Inception functioned.) I'd say those films mostly channel the structural language of games. Increasingly, I'm noticing films, books, and TV shows that are informed by games' cultural and emotional language as well.