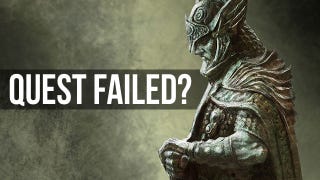 A gambling man once bet me a hundred dollars he could think of something I couldn't convincingly pretend to dislike immensely. Fifteen minutes later, he was crying, and I was on my way to buy a new pair of shoes.
Go ahead, traveler: dare me to pretend to dislike a particular thing you find objectively likable! Perhaps a video game that has a 96 average review score on Metacritic? I'd suggest one that has 68 positive critical reactions, zero mixed critical reactions, and zero negative ones.
h

Ah, I see you've chosen The Elder Scrolls V: Skyrim. I just so happen to have just played that game for 14 consecutive hours.
Do I hate Skyrim? Do I despise it? Do I think it's stupid and boring? Maybe I do! And maybe I don't. I will go ahead and suppose that I do.
Here, traveler—for you, I have assembled the finest and sharpest collection of bullet points.
The ancients call this Ten Things I Hate About Skyrim.
1. I hate making my own character
Why does every game assume that the player wants to make a character that looks like himself—or someone else, or anyone else? Do I really care if my guy is a lizard-person or a cat-person or an orc or one of 12 types of human? Do I really need sliders for nose depth and chin height / width / thickness / sharpness? While it's true that the non-player characters (NPCs) sure do look a lot better than the monstrosities in Oblivion (who looked about as good as the radiation-mutant Ghouls in Fallout 3), you can still stumble pretty direly on the road to trying to make one for yourself.
The character creation tools in Skyrim go like this: you choose a preset, and then you accidentally touch one fine-detail slider, and now your heroic-looking guy or girl looks like a crayon-drawn wanted poster.
You don't even see your hero in this game — it's primarily first-person, and if you're playing it in third person, in addition to apparently Doing It Wrong, you're still not even going to see your hero's face.