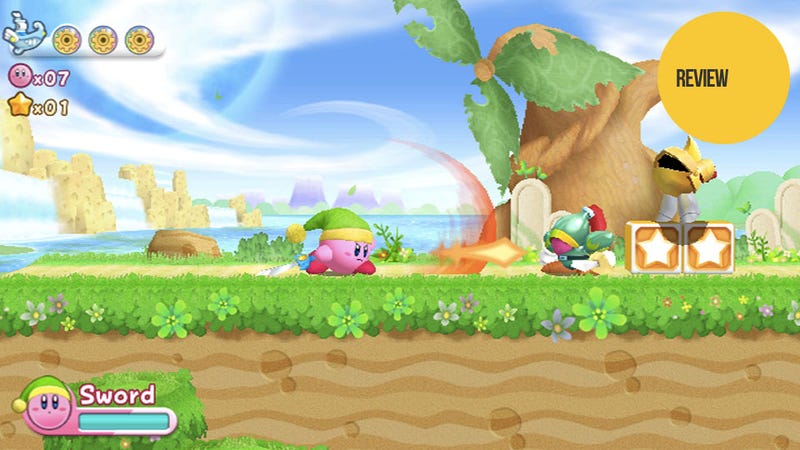 Kirby was always a simple video game character. He was a pleaser. Today, he's a rebel.
In the vintage of his heyday, one that Nintendo has attempted to uncork again with this season's Wii game, Kirby's Return to Dreamland, Kirby charmed players by being cute. He was—and is again—a pink blob with puffed cheeks and stubby arms, running around to a lullaby soundtrack. He won gamers over in 1992 by making them happy. We still need that.
Kirby wasn't just about joy. From the start, the Nintendo character made the people who controlled him on Game Boys, Super Nintendos and DSes feel powerful. That could have made Kirby the forefather to today's major video games, so many of which are made to please their players by granting them great power and a feeling of accomplishment, without making them sweat. Yes, modern video games are, by default, easy, as easy as so many Kirby games have been.
Kirby's 1992 debut, Kirby's Dreamland for the Game Boy
But Kirby was too sweet to spawn today's interactive explosion-detonators and blood-spillers. Kirby's powerfulness was more bubble-blower than chainsaw, more gentle, magical, wondrous potency than the kind of ripping, shredding power favored by today's shooters, the racers, the brawlers and the rest.
He too may star in easy games, but Kirby doesn't fit in these days. He is bald but he's hardly badass and doesn't grit his teeth. Nintendo seems undeterred. With his cheeks puffed and eyes wide open, he is back. But his return this time seems to be as if by accident, as part of an unexpected renaissance from his caretakers at Nintendo. He's part of a 21st-century movement by Nintendo that has progressed from simply reclaiming the value of simplicity in video games to reviving an entire genre, sidescrollers, the genre that Super Mario Bros. helped make famous. It's a genre even Nintendo seemed tired of a decade ago but back they are, returning Kirby, in a jolly manner, to his most comfortable territory.
Kirby's Return to Dreamland is a strange game to be playing in 2011. It's a simple side-scroller and a nostalgia device. Kirby can inhale his enemies, as he could in his first game, and absorb the powers of many of them, as he could in many Kirby sequels. He can float forever, flying through levels without much conflict or thump his enemies with his cute ninja stars, microphone yells, hammer hits, leaf walls or whatever other cartoony powers he temporarily obtains via enemy-inhalation. The Return to Dreamland player won't find much friction in this game if they don't want to, but almost all Kirby games have been easy if you wanted them to be. To dislike easy games would be to dislike modern video games and most Kirby games. There's no need for that.
You can call the new game fan service, a love letter to people who love Kirby or a time capsule unearthed and re-polished. Return to Dreamland is a playground for Kirby's oldest fans who will probably be delighted that this new game feels so much like some old favorites. The game's music, sound effects, character designs and powers are all throwbacks, as is the core of what you do in this game, to early Kirby adventures.
Kirby can indeed still be a charmer. He's adorable in this game, even when he's grabbing his enemies in a grapple that only Kirby could make look like a hug, leaping into the air with them, spinning around and spiking them on the ground. Kirby kills with kindness, the kind of kindness that licenses him to, every few levels, get a mega-sized version of one his powers and start smashing his enemies with a screen-filling mallet or giant sword (because Kirby games are comedies, sometimes that giant sword just happens to manifest itself as a giant fish; and sometimes the power that Kirby snatches doesn't make him a mightier warrior but, rather, makes him take a nap).
But just as Star Wars for some audiences is the adventures of Anakin, not Luke, so too has Kirby developed a new fanbase for his recent role as playful lab assistant. Kirby, of late, has been the character Nintendo has used for some of its most interesting game design experiments. He was a pioneer of motion control when he starred in the pre-Wii motion-sensitive game Kirby Tilt 'N Tumble. He was the test blob in Kirby's Canvas Curse for an action game on the DS that could be controlled entirely with a stylus—and with the player drawing the path for the hero to travel across.
Kirby has taken so many breaks from inhaling his enemies and gaining their powers that he's waddled to the tip of Nintendo's design spear. Last year he was part of an unusual graphical experiment, starring in a Wii game, Kirby's Epic Yarn, that tested the concept of a virtual world that both looked and behaved as if it was stitched and knitted from fabric, thread and yarn. Just two months ago he was part of yet another experiment that could be summarized as: What if there were 10 Kirbys at once?