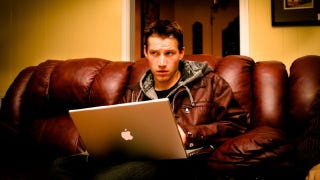 When he got the vision floater in his right eye that morning at work, Mikey Neumann figured in the next 30 minutes he'd be asking someone to drive him home so he could fight off a migraine. But the walloping headache never came.
By 6 p.m., he was still in the Gearbox Software office, playing Left 4 Dead 2 with a colleague, and doing terribly at it. His vision had gotten worse. He had no feeling in his left hand. He was lightheaded. At the end of the match Neumann mumbled something unintelligible about his performance and left the room. In the stairwell, the entire left side of his body went numb and he fell.
He wasn't having a migraine that day. Neumann, at age 29, was having a stroke.
It was the beginning of a journey that, now in its 28th day, remains without resolution on many questions. Neumann, known for playing Borderlands with fans for nearly three straight days to honor a personal pre-order incentive he'd offered, still has no feeling on his left side. He uses a cane and wears an eyepatch. He did finally get the migraine; it hasn't gone away in 26 days. And while his doctors know what caused the stroke, they do not know how to stop another one.