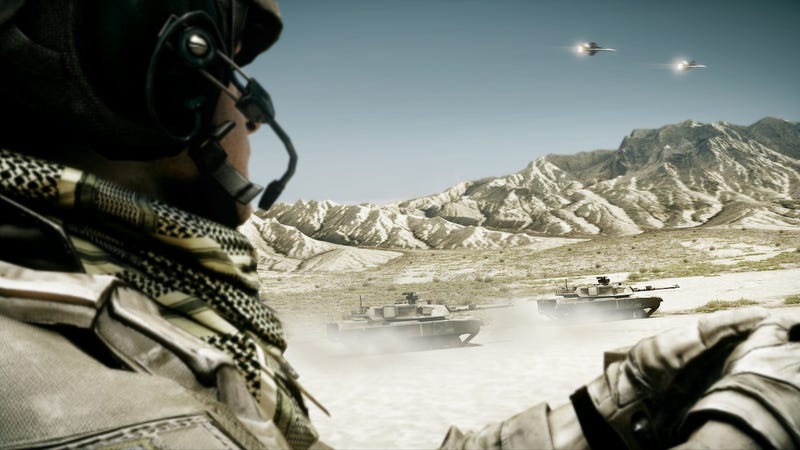 I'm rolling in the back of an armored jeep, manning the .50 cal doing 40 MPH over a wide swath of grassland, heading straight for a contested jumble of buildings in the middle of a huge map. A jet roars overhead, inbound to the same location. It's all very exciting, and… bam. I'm dropped from the server, back out to the desktop.
I load up another game, hop into my customization screen and begin to go through my support gunner's kit. I click through a ridiculous number of scopes, thoroughly enjoying contemplating how they'll all work in-game. I have everything selected, and… bam. I'm dropped from the server, back out to the desktop.
This is a tricky preview to write, because I had a very good time playing BF3's PC multiplayer—when it worked. I went through a whole bunch of different maps and modes (many of which are, unfortunately, still under media embargo, so I can't talk about them yet.) However, my time playing the game was marred by hugely disruptive technical issues, from in-game freezes to constant server drops to conflicts with the Origin account that EA had set up for me. I believe that some (though not all) of the bugs and crashes I experienced were unique to the media event I attended and to the PC that EA gave me to use, but all the same it was hard to shake the suspicion that three weeks from launch, Battlefield 3 might not be quite ready for prime-time.
As Fahey already noted while playing the PC Beta, Battlefield 3 is accessed through a web browser, not through a Steam-like standalone program. It feels peculiar. Everything is hosted on EA's Battlelog website, with Origin running in the background. Finding a game server happens in-browser—there appears to be no way to change servers in the game itself, which feels like an odd step backwards.