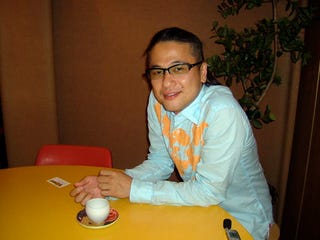 PaRappa the Rapper designer Masaya Matsuura has been called the father of music games. Thing is, he doesn't believe there are music games.
"Strictly speaking I do not believe that 'Music Games' as a genre really exists yet," Matsuura recently told Kotaku. "We just have 'Rhythm Games.'"
This isn't the first time Matsuura has said this, but it's worth bringing up again, due to the broad brush strokes that rhythm games are painted with. Matsuura, a musician himself, is acutely aware of the difference between music and rhythm.
Before Matsuura made classic titles like PaRappa and Vib-Ribbon, he was a recording artist with Sony, releasing numerous albums and playing stadiums.
Matsuura's music, such as "Angel Night", was used for anime and TV dramas.
Currently, Matsuura and his studio NanaOn-Sha are finishing up Kinect title Haunt for Xbox Live. It's set in a haunted house, and, while not a straight up rhythm game, it does have rhythm elements.