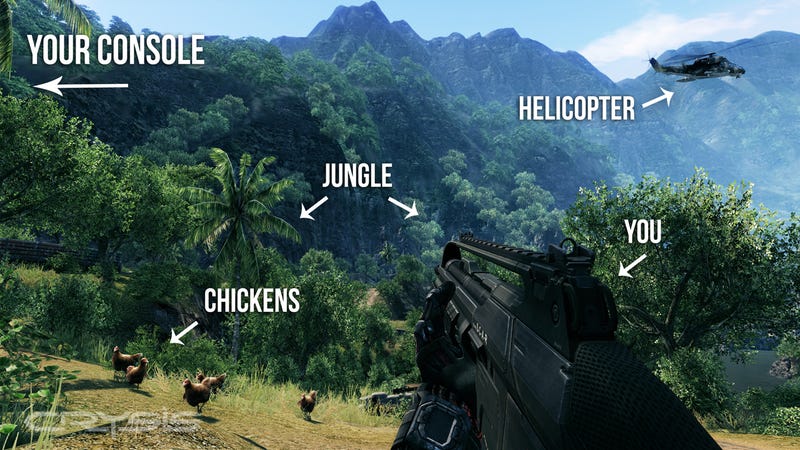 The original 2007 Crysis has a benchmark-y quality to it. It is no longer the Best-Looking PC Game In The World, but it retains some of that "must-have" mystique nonetheless. Perhaps it's because it's one of only a few hardcore first-person shooters that has never been ported to consoles. But every time one of my console-playing friends builds a new gaming PC, first thing he or she does is go straight to Steam and download the game.
Well, it's a PC exclusive no longer. Crytek and EA have announced a coming downloadable version of Crysis for Xbox 360 and PS3, which will use the updated CryEngine 3 that powered this year's Crysis 2. Earlier this week I had a chance to play it on Xbox 360, and I was so impressed that one of my first questions was, somewhat unbelievably: "Is this being ported to PC?"
Sadly, the answer was "No." I took a moment to reflect on the question I'd just asked: "Will I be able to play a PC port of your console port of a PC game?" Dogs and cats! Living together!
So here's the part where I commit heresy and say that yes, I rather like using an Xbox 360 controller with my PC. Blah blah, PC Master Race, superiority and precision of the mouse and keyboard, blah. I love precision as much as the next guy, and I play a good number of games with a mouse and keyboard (including the original Crysis). But I also like to kick back with a controller in my hand and relax, and I even like controller-rumble! It feels good on m'hands. Furthermore, I've recently taken to moving my PC over to my giant HDTV and running my games on the big screen, (you should see The Witcher 2 running on a 55-inch display, good god), and at the moment, I'm unable to play mouse/keyboard games while sitting in front of my television.
This is all a disclaimer-filled preamble to where I talk about how I played Crysis 2 on PC with a 360 controller. It worked great, and as I've mentioned before, I liked that game more than a little bit. I played a ton of Crysis with a mouse and keyboard, partly because the way that the game mapped to a 360 controller never felt right (and couldn't be customized, boo). The crouch didn't stick, the iron-sights did… and iron-sights were assigned to RB? Left trigger brought up the suit menu, but there was no one-button way to toggle between the suit's abilities. And worst of all, there was no way to go prone when using a controller… none. You had to use the keyboard. It was all a bit of a mess, particularly when compared to the intuitive controller-mapping in Crysis 2.