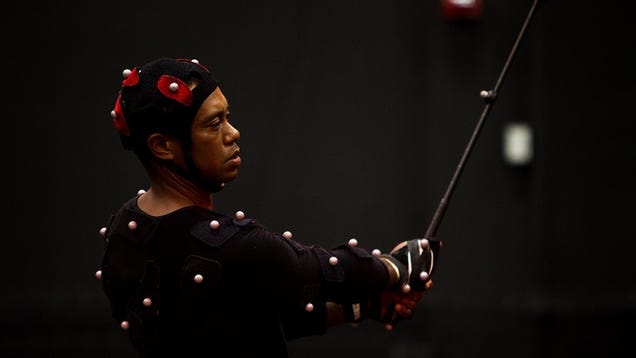 Captured Tiger | His season ended when he missed the cut at the PGA Championship three weeks ago, so Tiger Woods is on the virtual links instead, doing motion-capture work for Tiger Woods PGA Tour 13 (Photo by brerwolfe/Flickr)
Activision's social network and stat-tracking service for the
Call of Duty
enthusiast,
Call of Duty Elite
, may become your preferred way to meet and play against your fellow first-person shooter fans. It does
a whole lot more
, but let's take a look at what Elite's Connect feature suite is all about.
More »
---
Behold the glory of Captains America, a hungry Umbrella employee, Catwoman-ish, upskirt Kratos, the world's greatest Ash cosplay, and a few very special guests.
More »
---
Earlier this week I got several versions of a small talk question I always field this time of year: "I haven't played
Madden
in X years. Should I buy it this year?" To me, that's no longer even a relevant question for this or for any sports video game. The real question, and its answer, make me wonder if they are worth reviewing any more.
More »
---
My guess is that, 10 seconds after Microsoft and Sony are made aware that their corporate symbols are endorsing a fake slavery RTS, seen at the end of this fake trailer, this offensive piece of attention-whoring is going to be abolished from YouTube.
More »
---
From Georgia, uh, comes the most pernicious piece of anti-used games propaganda I've ever seen. A mother of two small children says she will from now on buy new games because she found a hand-drawn pornographic picture inserted in the case of a used one bought at GameStop. The kicker? This all went down
on
in a town called "Cumming."
More »
---
As English-speakers, we take for granted a lot of things: One, that every game will either be originally published in our language or localized for it (and woe betide those that aren't...) Two: That the voice acting, if incompetent, will at least sound poorly acted and not read off a page.
More »
---
I'm headed home Tuesday night for my 20th high school reunion on Saturday. There will be people there I haven't seen since our graduation night. I fly out the next day. The last time I was scheduled to fly on Sept. 11? 2001. –Owen Good
---
We like tips!
Got tips for our editors? Want to show the world your latest creation? Ready to anonymously share an unannounced game? Email us at tips@kotaku.com. Or leave us an anonymous voicemail at (612) 568-2581.
Want a different layout?
Click here for the Speak Up or Tips forums. Want a more "blog-like" look? Click the button up top next to "Top Stories."