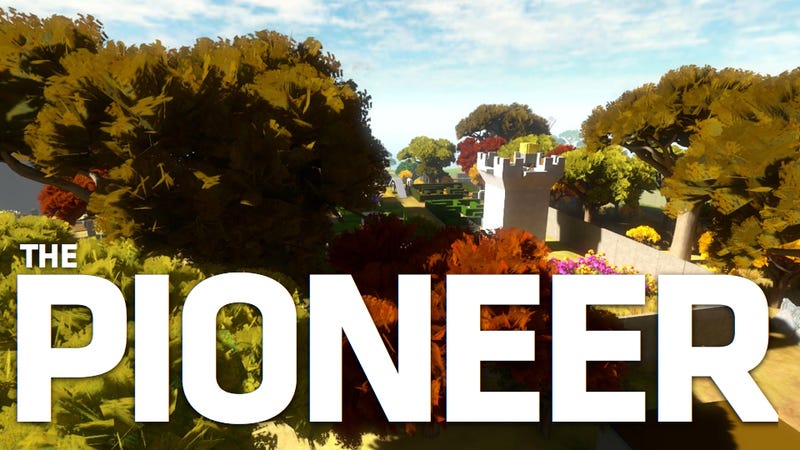 Jonathan Blow is a video game developer whose critics call pretentious and grouchy.
He once had the audacity to wonder aloud why more people don't make video games for adults who like reading books.
That was some time after he had the temerity to criticize the game-making of the geniuses at Nintendo. That was also some time before he told me, just last week, that he'd be depressed if he did what anyone else was doing in game development. He has to do his own things, he said. "I have to be pioneering."
It would be so easy to misunderstand Jonathan Blow, to cast him off as a blow-hard, to miss his doubts and ignore his excellent ambitions. It would be unfortunate, because Jonathan Blow is the kind of righteous rebel video games need.
Physically, Blow doesn't stand out: white guy, trim build, glasses and a shaved head. His voice is pinched. His gestures, though, are a little different. When I sat with him last week, to discuss his newest game after he'd let me play it almost undisturbed for two hours, he'd lean forward and tilt his head to the side, parallel to the floor, as if to consider the world differently as he organized his thoughts and prepared paragraphs of answers.
He wants to do unusual thing. He'll tell you, as he told me, that he wants "to do a game that is a little more adult in the sense that it is a game for people with long attention spans." And the impression I get is that Blow himself is a game developer for people with long attention spans. Sure, he's good for a quote or a soundbite, good for a quick knock on "unethical" design of reward-centric games like World of Warcraft or a poke at the clumsily complex starts of Assassin's Creed or Prototype. But the truncated take on Blow is off.
In an attempt to explain this willfully critical creator, we could condemn Jonathan Blow as a game designer who doesn't play video games. Because he rarely does. I suggested to him that we could go to a GameStop and I could point to a wall of games and he'd find nothing he cared to play. Not quite, he said, giving me a perfect Jonathan Blow answer: "I could find a bunch of games to buy and take home and play for an hour." The insult is implied.

(The Atari 2600's Air-Sea Battle | Magnum Arcade)
Blow may be an outsider to gaming's mainstream, a bright, sharp-elbowed indie guy who appropriately lists among the few categories of posts on his blog "engine tech" and "ill-advised rants." His gaming origins, however, were common. He grew up the way many gamers born in the '70s did. He had an Atari. He played Air-Sea Battle. He played what everyone else was playing. "When I was a kid I just loved games and saw the potential," he told me. "At some point my interest in games did not go away, as it has for many people."
He cared about video games a lot. He still does. "I can't explain to you why," he said. "I wonder if sometimes I'm fooling myself and don't care about them as much as I think I do and need something to believe in and this is it. But one thing that has always appealed to me is that I've always wanted to do something in life that is productive or meaningful that, if I wasn't doing it, probably wouldn't get done."
Meaningful?
There is an outside world that sneers at video games. There is a large batch of people who play video games who don't but think of them as nothing more as a good vehicle for tossing angry birds or fighting in virtual wars. Games are a past-time to many, a means of expression to fewer. I seldom hear the creators of games tell me they're in it to be meaningful. But that is Blow.
In 2008 he made what he considers his first game. He hints that that there was a game before all that, a game that doesn't count because he wasn't serious about it. Braid was first, a 2008 Game of the Year contender that was a sort of reinterpretation of Super Mario Bros. that gave the player unusual methods to manipulate the flow of time.
"What I thought of myself as a designer back then was that I'm going to be someone who does new gameplay mechanics that are interesting and explores that," he said. He'd found some great mechanics for Braid. He let players rewind time. He let them set up bubbles in the playing field inside which time flowed at a different rate. His first game, which was a downloadable hit on the Xbox 360 in the summer of '08, brimmed with new gameplay mechanics. For his next project he originally sought to find more. "But I wouldn't be satisfied with that being the point anymore," he realized. "For me, there is a deeper thing happening. There is, through the art of game design, some kind of observation about that universe that is not accessible in the same way from other media. If I can get that, then I don't even care about the game mechanic. If I can do that in a first-person shooter that looks exactly like Doom 3 then I would do it."
Blow's current project is a team effort called The Witness. I've written about what it is, based on what I could glean from a two-hour session with the unfinished work last week. The short version is that it's an evolution of the 1993 PC hit Myst a successor to a genre of graphic adventures and a specific call-back to that original phenomenon of solving non-verbal puzzles on a curiously uninhabited island.