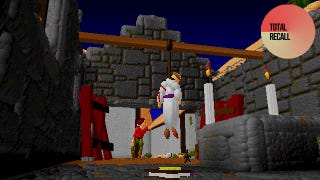 There was a PC game released in 1994 called Escstatica. It's notable for two things: it was scary, but it was also a technological marvel.
It doesn't matter that the technology in question never really went anywhere. It was cool for the time, and this feature is all about looking back in time!
Ecstatica was a third-person horror/action game in the vein of similar titles like Alone in the Dark and, though it came later, Resident Evil. Think pre-determined camera angles, cheap scares and inventory restrictions.
It was designed by veteran British developer Andrew Spencer, and published by Psygnosis, who are revered for many things, not least the company's amazing policy on box art.