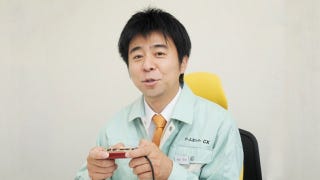 People don't tune into Japanese television show Retro Game Master to watch Shinya Arino whip through video games effortlessly. They tune in to watch him fail, and fail, and fail, and perhaps to finally, painfully succeed.

They've also been tuning in for the past eight years, Arino tells me with his sly sense of humor, because he is cute.
Retro Game Master, known in Japan where it originally airs as GameCenter CX, kicks off its thirteenth season this week. In the show, Arino plays the role of a manager at fictional company GameCenter CX where his promotions and demotions are determined by his ability to play through classic video games.
His gaming sessions often run an entire day, sometimes they last longer, with Arino taking breaks to plot strategy with his staff on a whiteboard, get pep talks and occasionally slap a cooling pad on his forehead or soak his aching thumbs in water.
It's an odd premise for a television show made more odd by the fact that Arino, a member of Japanese comedy duo Yoiko, isn't very good at video games.
In a typical episode, Arino picks his way meticulously through a game, patiently taking in-game baby steps as his character dies repeatedly and he's forced to restart the game over and over again.
Arino leans back in his black leather chair, his eyes closed in agony, his head tilted up to the ceiling.
"You've got to be kidding me," he says, even as a sad smile starts to spread across his face. "That wasn't the ending?"
It's the final battle, or rather the third, true final battle, of Nintendo Entertainment System game Ninja Gaiden and Arino looks like he's about to give up. But after staring down at the controller laying loosely between his hands for a few seconds, he leans forward and starts playing again.