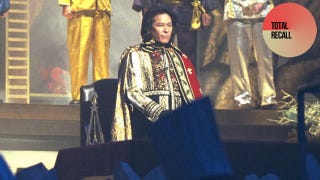 Iron Chef, a Japanese cooking show that began in 1992, has quite the cult following in certain Western countries thanks to years of dubbed episodes and re-runs.
It wound up in 1999, however, leaving talismanic host Takeshi Kaga needing a new gig. And he found one in Pokémon.
If you've never seen it, Iron Chef was an amazing show, in which invited (and highly talented) chefs from around the world faced off in a cooking battle against the program's resident "Iron Chefs".
What made the show interesting was the fact the Iron Chefs each specialised in a certain type of food (eg Chinese or Italian), and that in every episode, every dish created (including dessert!) had to be made using a themed ingredient, which could be anything from potatoes to live eels.
The cooking was frantic, the dishes looked delicious and the celebrity judges (which sometimes included Mother creator Shigesato Itoi) were often insightful and/or hilarious. But what really made the show was its host, Takeshi Kaga.