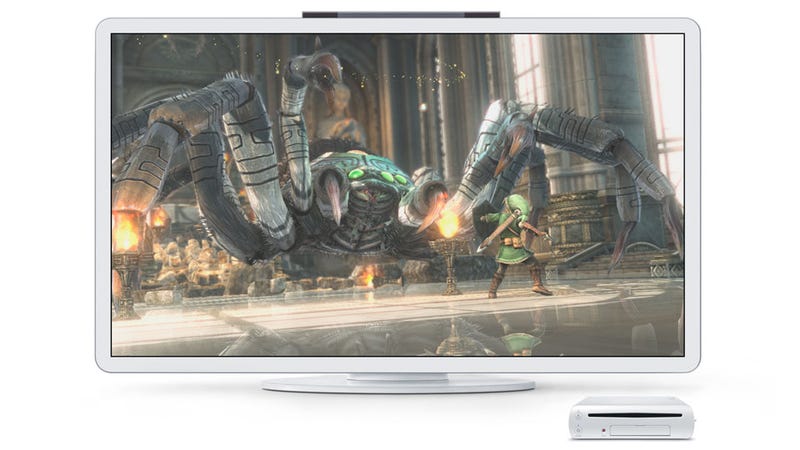 I played Nintendo's Wii U earlier this week, the exciting successor to the Wii that not only plays a lot like the Wii—now with a new, unique twist—but a console that plays nicely with the Wii controllers and accessories you already have.
It is an experience that incorporates the social appeal of the Wii while also delivering a high-definition visual experience and control interface that video gamers may be more comfortable with. Nintendo says its Wii U is designed to appeal to "the most experienced players" as well as those whose first interaction with video gaming was with the original Wii.
The core of Nintendo's Wii U is its new controller, a hefty, sturdy, rectangular device with buttons and sticks on its edges and a 6.2" touchscreen controller in its center. It works in tandem with Nintendo's new console hardware, with video streaming from the console to Nintendo's controller. In addition to buttons and touchscreen, the controller sports a camera on the face of the controller, a microphone, and tilt-sensitive gyroscope. Nintendo's Wii U outputs its HD visuals simultaneously to a television and to the controller's screen, meaning players can either game on their TV, their controller screen or both a the same time.
Wii U is compatible with original Wii games and accessories. Some of the Wii U games we played relied on other players with Wii Remotes and Nunchuks.
Nintendo showed us the unique possibilities of gaming on Wii U, how it might affect how games are designed by Nintendo and its third parties, bringing one of a kind experiences to Nintendo faithful.
What Nintendo did not discuss during our hour-long demo was the Wii U's technical details, with a few exceptions, its online component or games in development for the new system. We don't know price, we don't know if its unique touchscreen controller will be sold separately, we don't know exactly when it's coming.