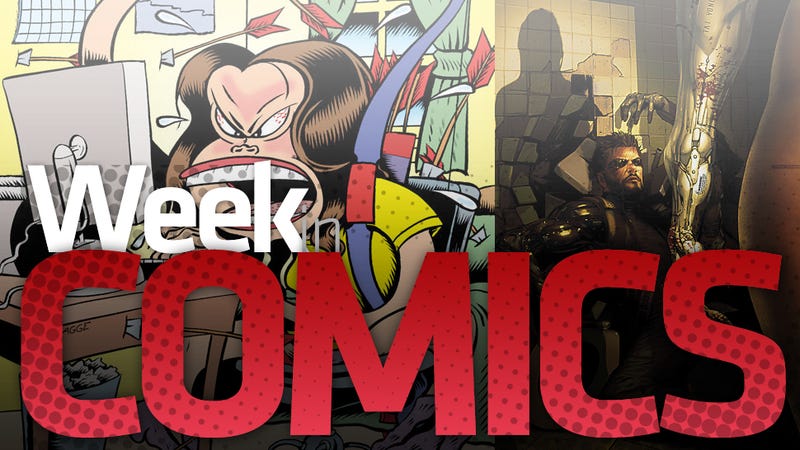 Do you like comics about video games? I sure hope so, because there are a lot of new ones this week, and not many interesting new comics that aren't about games.
Here are this week's notable releases...
Comics You Should Consider Buying
Knight & Squire #6 This clever series about England's version of Batman and Robin has turned grim as its has approached this finale. Following the cliffhanger of issue 5, The Joker's come to London. He's comic in England intending to murder all the odd British heroes we were introduced to in the first five issues, and he's going to make the seemingly harmless British version of the Joker watch. This series has been superb and the issues have been self-contained enough that you could probably jump into this final one with minimal confusion.
Time Lincoln: Cuba Commander Look, this week is lacking in promising new releases, so maybe go out on a limb and try this? Warning: it might suck. But do consider the official description: "Time Lincoln [continues?] his Travelers Team journey to the Bay of Pigs on April 1st, 1961 to face Cuba Commander and his Chronocommunists! The villains plan to have their own monstrous agents replace key CIA operatives who are running a secret mission in Cuba, turning the whole country into a massive atomic 'time bomb' factory. Things turn sour for both Time Lincoln and Void Stalin when Cuba Commander double-crosses his leader and traps everyone within a paradoxical vortex. Now Stalin's only hope for escape is the Travelers Team, and Lincoln's salvation lies with the Chronocommunist cabal!" You did see that they have a character named Void Stalin, yes?
Comics With Video Game Connections
Deus Ex #2 Our very own Brian Crecente loved the first issue. Official summary of the second: "Haunted by the ghosts of his past, Adam Jensen purses an augmented terrorist group and learns that, even in a world of superhuman enhancements, the female is still the deadliest of the species…"