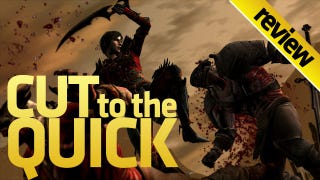 While the heroes of Dragon Age: Origins were busy saving the world, Hawke and his family were running for their lives. Their tale of survival and triumph amidst a city on the verge of turning on itself is the focus of the darker, grittier Dragon Age II.
Fleeing from the Darkspawn hordes to the neighboring state of Kirkwall, Hawke and his companions soon discover that the seeming safe haven isn't without its fair share of monsters, though they aren't as easily identified. The stranded members of a fierce warrior race sow the seeds of fear and uncertainty among the citizens and officials of Kirkwall, while the tension between the dangerous magic-users and the mage-corralling Templars grows more volatile with each passing day. In the middle of it all is Hawke, destined to become the Champion of Kirkwall in BioWare's eagerly anticipated action role-playing game sequel. His or her rise to power is a given. How Hawke gets there is all up to you.

Why You Should Care
Dragon Age II is the latest title from BioWare, one of the most consistently stellar development teams, and the sequel to one of the greatest western-developed role-playing games of all time. Sure, it's still a sequel, but BioWare's Mass Effect 2 took home a ton of Game of the Year awards for 2010. If any development team can strike gold a second time, it's this one.