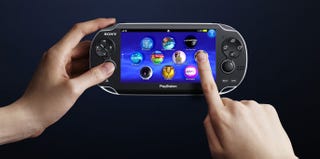 Think you are excited about Sony's upcoming portable, the NGP? You're not alone. Game developers are apparently totally jazzed about it, too. And the NGP might not only change the way you play games, but the way video games are made.
"NGP is a developer's dream," a developer speaking under anonymity told website Eurogamer. "Sony is finally doing the things developers have been crying out for for years." Sony, it seems, recently held a meeting for game developers in London, outlining that the NGP's first year would be directed at core games, while its second year would be focused on "hardcore and teens". Sony will apparently expand to a wider audience after that.
What developers have been crying out for is the ability to take games they'd made for the PS3 and quickly (and easily) put them on Sony's portable platform. And with the NGP, it sounds like they can do just that.
During the NGP press event last week in Tokyo, game developers like Konami, Sega and Capcom showed that they could quickly churn out NGP-ready footage and praised just how straight forward that was. While some of the footage looked great (Metal Gear Solid IV), some did not (Lost Planet 2). That, of course, could be due to how much time was spent preparing the footage and is no way a fair assessment of what the machine can do.